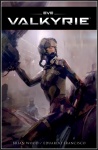 New York Comic Con News
: Dark Horse Comics announced several new projects for 2015 including new
The Goon, Mister X
,
Witcher
, and
EVE Online
miniseries, and a new
Kabuki
anthology collection.
Brian Wood (
The Massive, DMZ
) will pen a new miniseries based on the upcoming CCP Games video game
EVE: Valkyrie
, with art by Eduardo Francisco (
Executive Assistant Iris, Mass Effect: Homeworlds
). The story will be an origin story for the pilot Ran, as well as chronicle the rise of the Valkyrie. Dark Horse Comics has also released several other
EVE Online
tie-in stories, including
EVE: True Stories, EVE: Source
, and
EVE Universe: The Art of New Eden
.
Eve: Valkyrie
#1 releases on June 3, 2015.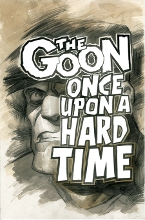 Eisner Award winner Eric Powell will pen a new
Goon
miniseries picking up the story after the tragic events of
Occasion of Revenge.
Once upon a Hard Time
will have major consequences for the Goon and his fellows. The first issue arrives on February 4, 2015.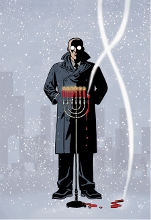 Artist and designer Dean Motter will pen
Mister X: Razed
, a new Mister X Christmas story and murder mystery, which will debut on February 25, 2015. The original
Mister X
series was published by Vortex in the mid-80s, with
Volume III
released by Caliber Comics in 1996, and an anthology collection and a
miniseries Mister X: Condemned
, released by Dark Horse in 2008 (see "
Dark Horse Comic-Con Announcements
"). The character has made subsequent appearances in Dark Horse titles, and the 2013 miniseries
Mister X: Eviction
.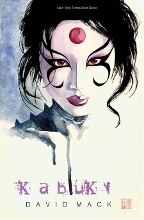 The first volume in a comprehensive series of new oversized library editions collecting David Mack's
Kabuki
series will be released on July 8, 2015. The 400-page
Kabuki Library Volume 1
will include the first two original
Kabuki
volumes:
Circle of Blood
and
Dreams.
Extra features will include
Kabuki
drawings from Brian Michael Bendis, introductions by Bendis and Jim Steranko, and more. MSRP is $39.99.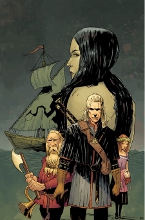 Paul Tobin (
Bandette, Colder
) will pen the new
Witcher: Fox Children
series, based on the CD PROJEKT RED video game franchise
The Witcher
, with art by Joe Querio
(Lobster Johnson, B.P.R.D.
). Dark Horse has previously released adventures of legendary monster hunter Geralt of Rivia in
The Witcher: House of Glass,
and is also planning to release a hardcover video game art book in February (see "
Dark Horse Does 'The Witcher'
").
The Witcher 3: Wild Hunt
, a new video game in the series, will release on February 24, 2015, and the new comic will launch on April 15, 2015.