We caught up with ReedPOP Senior Vice President Lance Fensterman at the end of New York Comic Con to talk about the show and plans for the future. He revealed that the show had sold 151,000 tickets, over 20,000 more than last year (see "NYCC Bigger than San Diego Comic-Con"), primarily through making Thursday a full day of the con. We followed up to learn more about this year's event.
Did you change the ratio between full-con and single tickets?
We adjusted our three-days just a little bit. We brought maybe a thousand or two three-days down and increased the single days. It gives us more uniques and means that more people can come to the show.
How did the first year of Super Week go? How many events did you hold (outside the Javits Center) and how many people attended?
One hundred ten events at 25 venues across several of the boroughs over 10 days. It's funny you should ask, but I don't know how many people attended Super Week events as a total.
A lot of the venues we use, like Hammerstein, 92nd Street Y, Madison Square Garden, have their own ticket vendors, so I will get the data eventually but I can't analyze the data the way I could through my platform. I don't know if it's new people or the same people that are attending these events.
We ran into some fans on the floor who were upset about the ticket-selling process. Was there a crash?
People were going to the New York Comic Con website and they'd click to buy tickets, which takes you to the ticketing platform. What happened is that the New York Comic Con website crashed. Our ticket-selling platform did not. The queue, which was completely overwhelmed, did what it was supposed to do which is move people slowly through the queue so it would not crash. There was one issue where 22 people were kicked out of the queue total. So out of the 151,000 people who bought tickets over the course of the time, the system failed 22 people, which we were able to recover and contact. Otherwise, it was very slow, which we believe we figured out and corrected, otherwise it did what it was supposed to do which is feed people through at a pace that would not crash the system.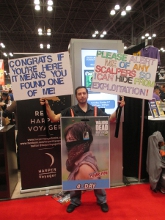 We heard fans beefing about tickets hitting the secondary market immediately. You limit the number of tickets that any individual can buy as a way to stop that. What's your feel about the situation?
We don't like it. We dropped the limit yet again, three years in a row. The limit that any individual can buy in terms of quantity of tickets I think is four. It used to be 10 or 12 to try to combat it. We go after scalpers as we can on eBay and all the other sites, but that's a full-time job.
To a degree we're fighting capitalism, and capitalism usually wins. We comb through our database and if we see different names, same email address or same mailing address, we contact those people. We are aggressive about policing it but if people can find a way to make a dollar, they tend to make a dollar, unfortunately.
Last year you said you were collected a lot of data from scanning people in and out. How did you use that data to change how you operated this year?
We ordered the rain to come Saturday right in the morning when we usually get hit the hardest, so it was perfect. We weren't so slammed (laughs).
We really used it to see when we were busiest. We wanted to see peak hours and staffed up accordingly. We changed the way security was staffed a little bit. We all have limited budgets but we wanted to make sure we had the proper staffing when needed most, so we changed our shifts a little bit based on when we were busiest.
Last year you said there was a problem with exhibitors bringing in extra people. Did that allow you to sell extra tickets because you found ways that people were getting in illegitimately?
We didn't sell any more tickets but it did open up an honest dialogue with our exhibitors and how the past badge system worked. We could impose limits, but if they were fraudulently getting around the limit, let's instead figure out what the appropriate needs are for our exhibitors with badges and then set those limits as reality and then enforce them with little flexibility.
Anything else you've learned from the new badging system that was useful or interesting?
We got to find out who stayed the longest on the show floor, which is kind of cool. There was a couple [last year] who literally spent every minute that was possible at New York Comic Con for three and a half days. We reached out to them and did something special for them--gave them a bunch of free stuff and free tickets because they were at the show longer than anyone who wasn't paid to be at the show.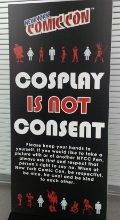 This year you instituted a new harassment policy. How did that go?
We put a feature in our app that allows you to report issues of harassment in addition to the new program, artwork and signage. We made it easier to report incidents yet we had fewer incidents reported. I will take that as saying the program worked, or people just started treating each other as they should. Either way it makes for a safer environment and we're happy about that.
We saw a booth selling boot-legged DVDs. Do you police that?
We under-resource how we police the show floor, in my estimation. If you see the number of people sitting around the perimeter, the issue of cosplayers and photos clogging the intersections, bootlegged DVDs--it's something we need to invest in next year, which is a bigger presence of staff and security. Clearing those logjams, looking for bootlegs, clearing out people sitting on the floor-- we've got to reclaim a bit of the show floor in terms of control.
Are you planning any changes for next year based on what happened this year?
Right now it's more Super Week.
Are you going to increase the events?
We want to create a city-wide happening. There's a lot of large, usable spaces around this city that we think we should take advantage of. We can't get that much bigger in the Javits Center. We're looking toward the future and we think that growing Super Week and its breadth and depth is what it is going to help us get bigger.
Are you done adding days?
I don't see us adding any next year, but we do have a holiday at the end of the weekend, typically, so it's something to think about for the future.
Are you going to do anything more like Special Edition, which you held in June (see "ReedPOP Plans Comics-Only Show")?
We'll do something. We're trying to find the right dates. We really like having an off-season, old school comics-only event. We like that idea and want to keep it alive. We'll figure out when to do it and where to do it.