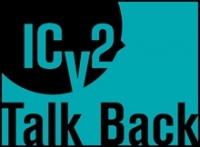 Tim Davis of Alternate Reality in Chicago, Illinois was surprised by the adult content in one of today's Image titles.
It's 7:15 am on new comic Wednesday (110514). I've already rung up three customers when one of my patrons brings a copy of
Humans
#1 to the counter with the magic words, "have you seen this?" holding open the book and pointing to a panel. Right there at the bottom of page eleven is one of the ape-like female humans holding the erect penis of an ape-like partner, performing fellatio on it with all the reckless joy and abandon one can imagine.
My week is off to a great start. I have 159 new titles on my rack of which 34 are from Image and one of them (my 40% Off "1st Day Sale" book) could get me arrested. Thank you so-o-o-o-o-o much guys.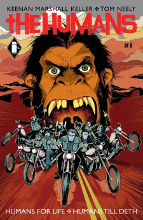 Somewhere down the road, writer Keenan Keller, artist Tom Neely, publisher Image Comics and distributor Diamond Comics all neglected to mention to retailers that there may be subject matter within the pages of
Humans
#1 that just might be deemed PORNOGRAPHIC to folks with a badge and District Attorneys with a desire for elected office. I mentioned this because in many parts of the country a shop owner can still get thrown in jail and shut down for having material like this available to a minor (read: under 16-18 years of age and with-in reach).
If there were a PARENTAL ADVISORY on the cover or an ADULT rating on the cover it would flag the book to an unsuspecting retailer so they could rack it appropriately (out of reach). However, no such notice exists on the cover. Nor does it exist in the Diamond solicitation:
HUMANS #1 (MR)
IMAGE COMICS
(W) Keenan Keller (A/CA) Tom Neely
Apart, they are nothing...deemed by society as outcasts, misfits, losers, no good punks! But together, they are THE HUMANS! The HUMANS is a high-octane, no-holds-barred, ape-biker-gang chopper ride into '70s exploitation genre bliss. Follow Bobby, Johnny, and all The HUMANS as they fight and fly down the road to oblivion on a ride filled with chains, sex, leather, denim, hair, blood, bananas, and chrome.
No, slipping the word "sex" in the solicitation text doesn't count any more than if you had written, "If you only buy one book this month" or some other such hyperbole. Further, at least a quarter of my books have some sort of (MR) Mature Rating attached to them.
From a mainstream publisher like Image I'm not expecting "mature" to be an erect penis. Gratuitous boobage? Sure. The "beast with two backs" on display? Probably. BDSM? Homoerotic spit swapping? Transsexuals on parade? Hello,
Black Kiss
. Of course all of the books featuring these and other consenting adult activities are done artistically and within a free speech narrative which we all support. But, guys, you flew this one under the radar and retailers are the ones with their asses on the line with it. To paraphrase Monty Python, "The book should have a big red label on it – 'Warning: ADULT MATERIAL.'"
I've been in comics retailing since 1978 and the hard line standard between "adult" and "pornographic" has always been an erect penis. Just having one pictured in a book or magazine makes it pornographic in almost every locale, and if anything is done with it by anyone within the narrative – well that just digs the hole deeper. All of which is the reason why at Alternate Reality we have an adult section separate from the rest of the main traffic. Adult material goes there for adult folks to peruse.
Before anyone thinks I'm being a prude, our adult section has about 500 "adult" trades (Eros, Project H, 801 Media and others), four long boxes of "adult" comics (or "comix"), and assorted magazines (
Playboy, Bizarre, Sizzle
and others). I have no problem with carrying material that might be "questionable" to some folks.
Tarot
also lives there, as does
Cavewoman, Dicks, Love & Rockets
and the aforementioned
Black Kiss
. Now it's where
Humans
will also live. Getting a real contents "heads up" somewhere in the chain between the solicitation in the September
Previews,
the FOC cut-off in October, and my racking it up on Tuesday for sale on Wednesday would have been nice.
It's not about censorship or free speech rights; it's about being a good partner. You have the right to make it and I have the right to sell it-except I have to be sure to display/sell it to the appropriate audience.
The opinions expressed in this Talk Back are solely those of the writer, and do not necessarily reflect the views of the editorial staff of ICv2.com.