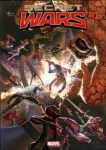 Marvel revealed today how the weeks of seemingly disparate teasers link together for their major 2015
Secret Wars
event, along with a launch date of May.
[Click any image for larger view.]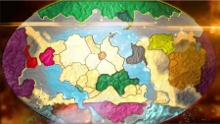 The
Secret Wars
storyline was announced at New York Comic Con (see "
Marvel Launching New 'Secret Wars' Event in 2015
"), to be written by Jonathan Hickman, with art by Esad Ribic. Marvel has now announced covers for the event will be drawn by Alex Ross. Marvel released a video titled "Secret Wars Battleworld Revealed," which showed the teaser art (see "
Marvel Weekly Summer Teaser Round-Up
") being placed in various countries on a planetary map (shown here), and then revealed the cover for
Secret Wars #1
. As there are many uncolored/unclaimed countries on the map, more teaser events may be added to the mix at a future date.
The original
Marvel Super Heroes Secret Wars
was a 12-issue crossover series written by Jim Shooter, with art by Mike Zeck and Bob Layton, which ran from May 1984 to April 1985. The story involved the cosmic villain the Beyonder, who transports various groups of heroes and supervillians to a "Battleworld" planet where he sets them against each other for his amusement.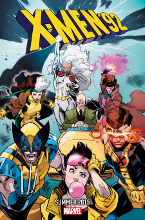 Marvel added two more teasers to the mix earlier this week, the animation-based "X-Men '92" and a white-backed "Everything Ends" statement.