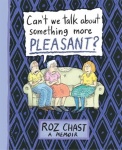 Amazon's editors chose Roz Chast's
Can't We Talk About Something More Pleasant?
as the best graphic novel of 2014, and listed its Editors' Picks for the 20 best graphic novels of the year in current bestselling order.
The Terrible and Wonderful Reasons Why I Run Long Distances, by The Oatmeal and Matthew Inman, from Andrews McMeel
Can't We Talk about Something More Pleaseant?, by Roz Chast, from Bloomsbury
Saga Deluxe Edition Vol. 1, by Brian K. Vaughan and Fiona Staples, from Image
Seconds: A Graphic Novel, by Bryan Lee O'Malley, from Ballantine
The Graveyard Book Graphic Novel: Volume 2 HC, by Neil Gaiman and P. Craig Russell, from HarperCollins
Batman: A Visual History, by Matthew K. Manning (foreword by Frank Miller), from DK Publishing
Through the Woods, by Emily Carroll, from Margaret K. McElderry Books
Sugar Skull, by Charles Burns, from Pantheon
Deadpool by Joe Kelly Omnibus, by Kelly, James Felder, Stan Lee, Ed McGuinness, Aaron Lopresti,k Bernard Chang, Shannon Denton, Pete Woods, and Rob Liefeld, from Marvel
Beautiful Darkness, by Fabian Vehlmann and Kerascoet, translated by Helge Dasher, from Drawn and Quarterly
The Harlem Hellfighters, by Max Brooks, from Broadway Books
Trillium, by Jeff Lemire, from Vertigo (DC)
This One Summer, by Mariko and Jillian Tamaki, from First Second
Locke & Key: Alpha & Omega, by Joe Hill and Gabriel Rodriguez, from IDW
The Shadow Hero, by Gene Luen Yang and Sonny Liew, from First Second
How To Be Happy, by Eleanor Davis, from Fantagraphics
Andre the Giant: Life and Legend, by Box Brown, from First Second
The Wrenchies, by Farel Dalrymple, from First Second
The Love Bunglers, by Jaime Hernandez, from Fantagraphics
Ant Colony, by Michael DeForge, from Drawn & Quarterly
Amazon's list was released just a few days after Publisher's Weekly listed its choices for the best graphic novels of the year (see "
PW's Top Graphic Novels of the Year
").