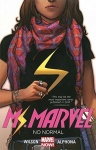 These are estimates of the sales on graphic novels by Diamond U.S. to comic specialty stores during October 2014.
For an overview and analysis of comic sales in October, see "
Loot Crate Wakes 'The Walking Dead.'
"
For an analysis of the dollar trends in September, see "
Comics Market Starts Q4 Strong
."
For our estimates of actual sales by Diamond U.S. from comic specialty stores on comic books shipped during October, see "
Top 300 Comics Actual--October 2014
."
Top 300 GNs – October 2014

Rank

Index

Title

Price

Pub

Est.Qty

1

6.56

MS MARVEL TP VOL 01 NO NORMAL

$15.99

MAR

7,795

2

6.52

HAWKEYE TP VOL 03 LA WOMAN

$15.99

MAR

7,753

3

6.35

BATMAN TP VOL 04 ZERO YEAR SECRET CITY (N52)

$16.99

DC

7,548

4

6.18

EAST OF WEST TP VOL 03 THERE IS NO US

$14.99

IMA

7,340

5

5.70

BATMAN HC VOL 05 ZERO YEAR DARK CITY (N52)

$24.99

DC

6,770

6

5.46

SOUTHERN BASTARDS TP VOL 01 HERE WAS A MAN (MR)

$9.99

IMA

6,492

7

4.72

HARLEY QUINN HC VOL 01 HOT IN THE CITY

$24.99

DC

5,606

8

4.21

AMAZING SPIDER-MAN TP VOL 01 PARKER LUCK

$17.99

MAR

4,999

9

4.18

MOON KNIGHT TP VOL 01 FROM DEAD

$17.99

MAR

4,970

10

3.78

BATMAN DEATH OF THE FAMILY BOOK & JOKER MASK SET (N52)

$39.99

DC

4,487

11

3.69

NAILBITER TP VOL 01 THERE WILL BE BLOOD (MR)

$9.99

IMA

4,387

12

3.64

LOCKE & KEY TP VOL 06 ALPHA & OMEGA

$24.99

IDW

4,325

13

3.48

SAGA TP VOL 01 (MR)

$9.99

IMA

4,135

14

3.38

BLACKSAD AMARILLO HC

$17.99

DAR

4,016

15

3.25

GOTHAM CITY SIRENS TP BOOK 01

$24.99

DC

3,859

16

3.22

FAIREST TP VOL 04 OF MEN AND MICE (MR)

$14.99

DC

3,832

17

3.20

SAGA TP VOL 03 (MR)

$14.99

IMA

3,807

18

2.93

BATTLING BOY RISE OF AURORA WEST GN VOL 01 (OF 2)

$9.99

ST.

3,487

19

2.89

MAGNETO TP VOL 01 INFAMOUS

$17.99

MAR

3,437

20

2.88

DC COMICS ZERO YEAR HC (N52)

$34.99

DC

3,427

21

2.86

SAGA TP VOL 02 (MR)

$14.99

IMA

3,394

22

2.80

WONDER WOMAN TP VOL 04 WAR (N52)

$14.99

DC

3,327

23

2.71

ORIGINAL SIN HC

$75.00

MAR

3,220

24

2.70

INJUSTICE GODS AMONG US YEAR TWO HC VOL 01

$22.99

DC

3,210

25

2.70

SHE-HULK TP VOL 01 LAW AND DISORDER

$15.99

MAR

3,206

26

2.60

GREEN ARROW TP VOL 05 OUTSIDERS WAR (N52)

$16.99

DC

3,090

27

2.51

GUARDIANS OF GALAXY TP VOL 01 COSMIC AVENGERS

$19.99

MAR

2,987

28

2.44

CAPTAIN MARVEL TP VOL 01 HIGHER FURTHER FASTER MORE

$17.99

MAR

2,902

29

2.42

DAREDEVIL TP VOL 01 DEVIL AT BAY

$17.99

MAR

2,881

30

2.40

STAR WARS ONGOING TP VOL 03 REBEL GIRL

$16.99

DAR

2,849

31

2.34

SILVER SURFER TP VOL 01 NEW DAWN

$17.99

MAR

2,782

32

2.34

NARUTO GN VOL 67

$9.99

VIZ

2,779

33

2.32

COWL TP VOL 01 PRINCIPLES OF POWER (MR)

$9.99

IMA

2,753

34

2.28

STAR WARS ONGOING TP VOL 04 SHATTERED HOPE

$16.99

DAR

2,705

35

2.22

UNWRITTEN TP VOL 10 WAR STORIES (MR)

$14.99

DC

2,644

36

2.21

WALKING DEAD TP VOL 01 DAYS GONE BYE

$14.99

IMA

2,623

37

2.19

SUICIDE SQUAD TP VOL 05 WALLED IN (N52)

$16.99

DC

2,599

38

2.11

BATMAN 66 TP VOL 01

$14.99

DC

2,505

39

2.09

WONDER WOMAN HC VOL 05 FLESH (N52)

$24.99

DC

2,483

40

2.08

GREEN LANTERN TP VOL 04 DARK DAYS (N52)

$16.99

DC

2,471

41

2.06

STAR WARS DARTH MAUL SON OF DATHOMIR TP

$16.99

DAR

2,443

42

2.03

EARTH 2 TP VOL 03 BATTLE CRY (N52)

$14.99

DC

2,412

43

2.02

BATMAN 75TH ANNIVERSARY TP COLLECTION

$49.99

DC

2,398

44

1.99

ALL NEW GHOST RIDER TP VOL 01 ENGINES OF VENGEANCE

$15.99

MAR

2,367

45

1.93

STAR WARS REBEL HEIST TP

$15.99

DAR

2,291

46

1.89

GOON TP VOL 13 FOR WANT OF WHISKEY AND BLOOD

$16.99

DAR

2,241

47

1.87

RAVINE TP VOL 02

$14.99

IMA

2,223

48

1.87

HULK TP VOL 01 BANNER DOA

$12.99

MAR

2,221

49

1.86

ATTACK ON TITAN NO REGRETS GN VOL 02

$10.99

RAN

2,214

50

1.86

WALKING DEAD ALL OUT WAR AP EDITION HC (MR)

$34.99

IMA

2,205

51

1.84

X-MEN TP VOL 03 BLOODLINE

$17.99

MAR

2,183

52

1.83

SKYLANDERS THE KAOS TRAP HC

$9.99

IDW

2,176

53

1.81

RAT QUEENS TP VOL 01 SASS & SORCERY (MR)

$9.99

IMA

2,148

54

1.76

HELLBLAZER TP VOL 09 CRITICAL MASS (MR)

$19.99

DC

2,093

55

1.74

JUSTICE LEAGUE 3000 TP VOL 01 YESTERDAY LIVES (N52)

$16.99

DC

2,072

56

1.73

DEADPOOL DRACULAS GAUNTLET HC

$34.99

MAR

2,061

57

1.73

FBP FEDERAL BUREAU OF PHYSICS TP VOL 02 (MR)

$14.99

DC

2,053

58

1.73

ORIGINAL SIN TP HULK VS IRON MAN

$16.99

MAR

2,052

59

1.71

MIRACLEMAN PREM HC BOOK 02 RED KING SYNDROME

$34.99

MAR

2,035

60

1.70

WOLVERINE AND X-MEN TP VOL 01 TOMORROW NEVER LEARNS

$17.99

MAR

2,026

61

1.62

BATMAN 66 HC VOL 02

$19.99

DC

1,925

62

1.61

SATELLITE SAM TP VOL 02 SATELLITE SAM & KINESCOPE SNUFF (MR)

$14.99

IMA

1,908

63

1.59

PREACHER TP BOOK 06 (MR)

$19.99

DC

1,885

64

1.58

NEIL GAIMAN GRAVEYARD BOOK HC GN VOL 02 (OF 2)

$19.99

HAR

1,882

65

1.57

EDGAR ALLAN POE SPIRITS OF DEAD HC

$24.99

DAR

1,868

66

1.56

GREEN LANTERN HC VOL 05 TEST OF WILLS (N52)

$24.99

DC

1,852

67

1.55

SEX CRIMINALS TP VOL 01 (MR)

$9.99

IMA

1,847

68

1.50

EARTH 2 HC VOL 04 THE DARK AGE (N52)

$22.99

DC

1,779

69

1.46

FABLES DELUXE EDITION HC VOL 09 (MR)

$29.99

DC

1,735

70

1.45

MY LITTLE PONY OMNIBUS TP VOL 01

$24.99

IDW

1,720

71

1.44

USAGI YOJIMBO SAGA TP VOL 01

$24.99

DAR

1,708

72

1.44

BATMAN TP VOL 01 THE COURT OF OWLS (N52)

$16.99

DC

1,708

73

1.42

MOON KNIGHT EPIC COLLECTION TP BAD MOON RISING

$39.99

MAR

1,688

74

1.42

TMNT ONGOING TP VOL 09 MONSTERS MISFITS MADMEN

$17.99

IDW

1,686

75

1.38

TEEN TITANS GO TITANS TOGETHER TP NEW PTG

$12.99

DC

1,644

76

1.37

ALL NEW X-FACTOR TP VOL 02 CHANGE OF DECAY

$17.99

MAR

1,626

77

1.36

ALL NEW X-MEN HC VOL 01

$34.99

MAR

1,616

78

1.36

BATMAN THE KILLING JOKE SPECIAL ED HC

$17.99

DC

1,613

79

1.34

WALKING DEAD TP VOL 02 MILES BEHIND US (NEW PTG)

$14.99

IMA

1,587

80

1.33

CROSSED TP VOL 10 (MR)

$19.99

AVA

1,575

81

1.31

BATMAN TP VOL 02 THE CITY OF OWLS (N52)

$16.99

DC

1,560

82

1.31

SECRET AVENGERS TP VOL 01 LETS HAVE A PROBLEM

$19.99

MAR

1,555

83

1.28

MANHATTAN PROJECTS HC VOL 01

$34.99

IMA

1,523

84

1.27

BLADE OF THE IMMORTAL TP VOL 30 VIGILANCE (MR)

$19.99

DAR

1,511

85

1.27

CIVIL WAR TP

$24.99

MAR

1,509

86

1.26

100 BULLETS TP BOOK 01 (MR)

$24.99

DC

1,501

87

1.26

BATMAN TP VOL 03 DEATH OF THE FAMILY (N52)

$16.99

DC

1,501

88

1.24

STAR WARS LEGACY II TP VOL 04 EMPIRE OF ONE

$16.99

DAR

1,478

89

1.23

PREDATOR VS JUDGE DREDD VS ALIENS HC

$29.99

DAR

1,462

90

1.21

JIM HENSON MUSICAL MONSTERS OF TURKEY HOLLOW HC

$24.99

BOO

1,444

91

1.21

LAST UNICORN TP

$19.99

IDW

1,438

92

1.20

GOTG BY ABNETT AND LANNING COMPLETE COLL TP VOL 01

$34.99

MAR

1,425

93

1.20

GUARDIANS OF GALAXY TP VOL 02 ANGELA

$19.99

MAR

1,425

94

1.19

LOVERBOYS HC

$19.99

DAR

1,418

95

1.19

ALL STAR WESTERN TP VOL 05 MAN OUT OF TIME (N52)

$16.99

DC

1,415

96

1.18

DEADPOOL TP VOL 03 GOOD BAD AND UGLY NOW

$15.99

MAR

1,397

97

1.17

BATMAN NOIR THE LONG HALLOWEEN HC

$49.99

DC

1,390

98

1.16

THOR EPIC COLLECTION TP GOD OF THUNDER

$34.99

MAR

1,379

99

1.15

GREEN ARROW TP VOL 02 HERE THERE BE DRAGONS

$14.99

DC

1,362

100

1.14

BPRD PLAGUE OF FROGS TP VOL 01

$19.99

DAR

1,358

101

1.14

FABLES TP VOL 01 LEGENDS IN EXILE NEW ED (MR)

$12.99

DC

1,351

102

1.12

RONIN DELUXE EDITION HC

$29.99

DC

1,333

103

1.12

WALKING DEAD TP VOL 21 ALL OUT WAR PT 2 (MR)

$14.99

IMA

1,329

104

1.12

ALL NEW ULTIMATES TP VOL 01 POWER FOR POWER

$17.99

MAR

1,326

105

1.11

SMALLVILLE SEASON 11 TP VOL 05 OLYMPUS

$14.99

DC

1,319

106

1.11

WALKING DEAD TP VOL 20 ALL OUT WAR PT 1 (MR)

$14.99

IMA

1,318

107

1.10

JUSTICE LEAGUE BEYOND 2.0 POWER STRUGGLE TP

$16.99

DC

1,303

108

1.09

EAST OF WEST TP VOL 01 THE PROMISE

$9.99

IMA

1,295

109

1.08

WALT DISNEY UNCLE SCROOGE HC VOL 02 SEVEN CITIES GOLD

$29.99

FAN

1,285

110

1.07

RAI TP VOL 01 WELCOME TO NEW JAPAN

$9.99

VAL

1,275

111

1.07

WATCHMEN TP

$19.99

DC

1,266

112

1.05

DEATHLOK DEMOLISHER TP COMPLETE COLLECTION

$39.99

MAR

1,253

113

1.05

STRAY BULLETS TP VOL 01 INNOCENCE OF NIHILISM (MR)

$19.99

IMA

1,249

114

1.05

MARVEL 100TH ANNIVERSARY TP

$16.99

MAR

1,249

115

1.05

HALO ESCALATION TP VOL 01

$19.99

DAR

1,248

116

1.02

AMERICAS GOT POWERS TP (MR)

$17.99

IMA

1,214

117

1.02

UNCANNY X-MEN IRON MAN NOVA TP NO END IN SIGHT

$15.99

MAR

1,207

118

1.00

IRON MAN EPIC COLLECTION TP GOLDEN AVENGER

$34.99

MAR

1,193

119

0.99

SAVAGE WOLVERINE TP VOL 02 HANDS ON DEAD BODY

$19.99

MAR

1,182

120

0.99

BLACK SCIENCE TP VOL 01 HOW TO FALL FOREVER (MR)

$9.99

IMA

1,181

121

0.98

DEADPOOL TP VOL 01 DEAD PRESIDENTS NOW

$15.99

MAR

1,168

122

0.97

MARVEL ZOMBIES TP VOL 03 COMPLETE COLLECTION

$34.99

MAR

1,155

123

0.97

DEADPOOL KILLS MARVEL UNIVERSE TP

$14.99

MAR

1,154

124

0.96

MMW MS MARVEL HC VOL 01

$69.99

MAR

1,146

125

0.96

AFTERLIFE WITH ARCHIE TP VOL 01

$17.99

ARC

1,140

126

0.96

BRYAN LEE O MALLEY SECONDS GN

$25.00

RAN

1,140

127

0.96

MMW AVENGERS TP VOL 06

$24.99

MAR

1,139

128

0.96

IRON MAN PREM HC VOL 05 RINGS OF MANDARIN

$24.99

MAR

1,138

129

0.95

TRANSFORMERS WINDBLADE TP

$17.99

IDW

1,125

130

0.94

SANDMAN TP VOL 01 PRELUDES & NOCTURNES NEW ED (MR)

$19.99

DC

1,121

131

0.94

BATMAN HUSH COMPLETE TP

$24.99

DC

1,112

132

0.92

WALKING DEAD TP VOL 03 SAFETY BEHIND BARS

$14.99

IMA

1,092

133

0.92

ALL NEW DOOP TP

$16.99

MAR

1,089

134

0.91

POWER OF TANK GIRL OMNIBUS TP

$24.99

RAN

1,086

135

0.90

WONDER WOMAN COMP NEWSPAPER DAILIES HC VOL 01

$49.99

IDW

1,070

136

0.88

INFINITY GAUNTLET TP

$24.99

MAR

1,046

137

0.87

NEIL GAIMAN THE LAST TEMPTATION HC

$39.99

DE

1,034

138

0.86

BATMAN DARK KNIGHT RETURNS TP

$19.99

DC

1,028

139

0.85

DISNEY ROSA DUCK LIBRARY HC VOL 02 RETURN TO PLAIN AWFUL

$29.99

FAN

1,013

140

0.85

ADVENTURES OF SUPERMAN TP VOL 02

$14.99

DC

1,007

141

0.85

V-WARS TP VOL 01 CRIMSON QUEEN

$9.99

IDW

1,005

142

0.83

REGULAR SHOW TP VOL 02

$14.99

BOO

992

143

0.83

EAST OF WEST TP VOL 02 WE ARE ALL ONE

$14.99

IMA

984

144

0.83

POWERS TP VOL 01 WHO KILLED RETRO GIRL NEW PTG (MR)

$15.99

MAR

981

145

0.82

HOWARD DUCK OMNIBUS HC

$99.99

MAR

978

146

0.82

PRETTY DEADLY TP VOL 01 (MR)

$9.99

IMA

974

147

0.81

SONIC SAGA TP VOL 06 MOGUL RISING

$11.99

ARC

964

148

0.81

CRYPTOZOIC MAN TP VOL 01

$17.99

DE

957

149

0.80

HAWKEYE TP VOL 01 MY LIFE AS WEAPON NOW

$16.99

MAR

953

150

0.80

JUSTICE LEAGUE TP VOL 01 ORIGIN (N52)

$16.99

DC

950

151

0.80

IN REAL LIFE GN

$17.99

ST.

948

152

0.79

JOKER DEATH OF THE FAMILY TP (N52)

$24.99

DC

940

153

0.78

DMC GN #1

$19.99

DAR

932

154

0.78

FIELD TP (MR)

$14.99

IMA

931

155

0.78

STAR TREK NEW VISIONS TP

$19.99

IDW

925

156

0.76

FOREVER EVIL HC (N52)

$24.99

DC

907

157

0.76

CHRONICLES OF KING CONAN TP VOL 09 BLOOD OF SERPENT

$19.99

DAR

904

158

0.76

BLACKHAND COMICS HC (MR)

$19.99

IMA

898

159

0.75

DEADLY HANDS OF KUNG FU TP OUT OF PAST

$16.99

MAR

896

160

0.75

COLLECTOR HC (MR)

$34.99

BOO

888

161

0.74

DEADMAN WONDERLAND GN VOL 05 (MR)

$9.99

VIZ

879

162

0.73

METEOR MEN GN VOL 01

$19.99

ONI

870

163

0.73

DEADPOOL TP VOL 05 WEDDING OF DEADPOOL

$15.99

MAR

865

164

0.71

ULTIMATE FF TP STRANGEST EVER

$17.99

MAR

849

165

0.70

ARCHIES FAVORITE CHRISTMAS COMICS TP

$9.99

ARC

836

166

0.70

FLASH TP VOL 01 MOVE FORWARD (N52)

$16.99

DC

834

167

0.69

STRAIN TP VOL 01

$19.99

DAR

825

168

0.69

WALKING DEAD TP VOL 19 MARCH TO WAR

$14.99

IMA

824

169

0.69

WOLVERINE OLD MAN LOGAN TP

$29.99

MAR

822

170

0.68

DEADPOOL AND CABLE OMNIBUS HC

$125.00

MAR

812

171

0.68

RED SONJA TP VOL 02 ART BLOOD & FIRE

$19.99

DE

809

172

0.68

GANTZ TP VOL 33 (MR)

$13.99

DAR

808

173

0.67

CLONE TP VOL 04

$12.99

IMA

801

174

0.67

ARCHIE 1000 PG COMICS CELEBRATION TP

$14.99

ARC

800

175

0.66

WORLD TRIGGER GN VOL 01

$9.99

VIZ

790

176

0.66

ANNOTATED SANDMAN HC VOL 03 (MR)

$49.99

DC

789

177

0.66

VAMPIRE KNIGHT GN VOL 19

$9.99

VIZ

783

178

0.66

COMPLETE PEANUTS HC VOL 22 1993-1994

$29.99

FAN

782

179

0.66

SAMURAI JACK TP VOL 02 SCOTSMANS CURSE

$19.99

IDW

782

180

0.66

ALIAS OMNIBUS HC NEW PTG

$99.99

MAR

780

181

0.65

BATMAN THE LONG HALLOWEEN TP

$24.99

DC

769

182

0.65

MINECRAFT OFFICIAL MOJANG CONSTRUCTION HANDBOOK HC

$7.99

SCH

769

183

0.65

NINJAGO GN VOL 11 COMET CRISIS

$6.99

NBM

768

184

0.64

DEADPOOL TP VOL 02 SOUL HUNTER NOW

$15.99

MAR

765

185

0.64

IRON PATRIOT TP UNBREAKABLE

$16.99

MAR

765

186

0.64

MAGI GN VOL 08

$9.99

VIZ

765

187

0.64

DEADLY CLASS TP VOL 01 REAGAN YOUTH (MR)

$9.99

IMA

764

188

0.64

MARVELS COMPANION TP

$39.99

MAR

757

189

0.63

V FOR VENDETTA NEW EDITION TP (MR)

$19.99

DC

744

190

0.62

MINIMUM WAGE TP VOL 01 FOCUS ON THE STRANGE (MR)

$14.99

IMA

738

191

0.62

ACTION PHILOSOPHERS HC

$29.99

DAR

733

192

0.61

KINGDOM HEARTS 358 / 2 DAYS GN VOL 04

$12.00

HAC

730

193

0.61

WALKING DEAD COMPENDIUM TP VOL 01 (MR)

$59.99

IMA

727

194

0.61

SUPERIOR SPIDER-MAN TP VOL 04 NECESSARY EVIL

$17.99

MAR

727

195

0.61

WALKING DEAD TP VOL 18 WHAT COMES AFTER

$14.99

IMA

724

196

0.61

WALKING DEAD TP VOL 05 BEST DEFENSE (NEW PTG)

$14.99

IMA

721

197

0.61

STAR TREK GOLD KEY ARCHIVES HC VOL 02

$29.99

IDW

720

198

0.60

BLACK BUTLER TP VOL 18

$13.00

HAC

718

199

0.60

SKULLKICKERS TP VOL 05 DOZEN COUSINS & A CRUMPLED CROWN

$16.99

IMA

717

200

0.60

POKEMON BLACK & WHITE GN VOL 18

$4.99

VIZ

716

201

0.60

INJUSTICE GODS AMONG US TP VOL 01

$14.99

DC

714

202

0.58

ADVENTURE TIME MATHEMATICAL ED HC VOL 04

$34.99

BOO

695

203

0.58

BUMF GN VOL 01 I BUGGERED THE KAISER (MR)

$14.99

FAN

693

204

0.58

DEADPOOL KILLS DEADPOOL TP

$14.99

MAR

693

205

0.58

JOHNNY BOO HC VOL 06 ZOOMS TO THE MOON

$9.95

TOP

687

206

0.58

FAIRY TAIL GN VOL 43

$10.99

RAN

685

207

0.58

PROJECT BLACK SKY SECRET FILES TP

$14.99

DAR

684

208

0.57

MY LITTLE PONY FRIENDS FOREVER TP VOL 01

$17.99

IDW

681

209

0.57

TRANSFORMERS LEGACY ART OF TRANSFORMERS PACKAGING HC

$49.99

IDW

681

210

0.57

FABLES TP VOL 20 CAMELOT (MR)

$19.99

DC

679

211

0.57

WALKING DEAD TP VOL 17 SOMETHING TO FEAR (MR)

$14.99

IMA

677

212

0.57

DEADPOOL VS CARNAGE TP

$16.99

MAR

677

213

0.57

PEANUTS TP VOL 04

$13.99

BOO

673

214

0.57

DEADPOOL TP VOL 04 DEADPOOL VS SHIELD

$15.99

MAR

672

215

0.56

EC ARCHIVES TALES FROM THE CRYPT HC VOL 05

$49.99

DAR

671

216

0.56

WALKING DEAD TP VOL 04 HEARTS DESIRE

$14.99

IMA

671

217

0.56

FAIRY TAIL GN VOL 42

$10.99

RAN

671

218

0.56

PREACHER TP BOOK 01 (MR)

$19.99

DC

660

219

0.56

BLACK DRAGON HC

$19.99

TTN

660

220

0.54

NO GAME NO LIFE GN VOL 01

$12.99

ST.

645

221

0.54

MIKE NORTONS BATTLEPUG HC VOL 03 SIT STAY DIE

$14.99

DAR

643

222

0.54

CHEW TP VOL 01 (MR)

$9.99

IMA

641

223

0.54

DEADPOOL BY DANIEL WAY COMPLETE COLL TP VOL 02

$34.99

MAR

641

224

0.54

SUPERMAN RED SON TP NEW EDITION

$17.99

DC

637

225

0.51

HELLBLAZER TP VOL 01 ORIGINAL SINS NEW ED (MR)

$19.99

DC

611

226

0.51

FABLES TP VOL 02 ANIMAL FARM

$14.99

DC

609

227

0.51

WALKING DEAD TP VOL 06 SORROWFUL LIFE (MR)

$14.99

IMA

606

228

0.51

MONSTER TP VOL 02 PERFECT ED URASAWA

$19.99

VIZ

605

229

0.51

ADVENTURE TIME TP VOL 01

$14.99

BOO

603

230

0.50

AGE OF ULTRON TP

$34.99

MAR

600

231

0.50

AVENGERS VS X-MEN TP AVX

$34.99

MAR

600

232

0.50

NIGHT OF LIVING DEADPOOL TP

$16.99

MAR

594

233

0.50

ASH & THE ARMY OF DARKNESS TP

$24.99

DE

593

234

0.50

POGO COMP SYNDICATED STRIPS HC VOL 03 EVIDENCE CONTRARY (RES

$45.00

FAN

592

235

0.50

LAZARUS TP VOL 01 (MR)

$9.99

IMA

590

236

0.49

STRAIN TP VOL 02

$19.99

DAR

583

237

0.49

BLACKEST NIGHT TP

$19.99

DC

583

238

0.49

NEW MUTANTS X-FORCE TP DEMON BEAR

$24.99

MAR

581

239

0.49

DAREDEVIL REBORN PREM HC

$19.99

MAR

580

240

0.49

POWERS TP VOL 02 ROLEPLAY NEW PTG (MR)

$15.99

MAR

579

241

0.48

EERIE ARCHIVES HC VOL 17

$49.99

DAR

575

242

0.48

ATTACK ON TITAN GN VOL 01

$10.99

RAN

575

243

0.48

MAGNUS ROBOT FIGHTER TP VOL 01 FLESH & STEEL

$17.99

DE

573

244

0.48

CONCRETE PARK HC VOL 01 YOU SEND ME

$12.99

DAR

572

245

0.48

FOOD WARS SHOKUGEKI NO SOMA GN VOL 02 (MR)

$9.99

VIZ

569

246

0.48

DEXTERS LABORATORY TP VOL 01 DEES DAY

$17.99

IDW

568

247

0.48

BASIL WOLVERTON WEIRD WORLDS ARTIST ED HC (Net)

$95.00

IDW

567

248

0.47

COMPLETE CHESTER GOULD DICK TRACY HC VOL 17

$39.99

IDW

561

249

0.47

STRAIN TP VOL 04 THE FALL

$19.99

DAR

559

250

0.47

WONDER WOMAN TP VOL 01 BLOOD (N52)

$14.99

DC

559

251

0.47

DEADPOOL CLASSIC TP VOL 01

$29.99

MAR

559

252

0.47

LAZARUS TP VOL 02 LIFT (MR)

$14.99

IMA

557

253

0.47

STATION 16 HC

$19.99

DAR

556

254

0.47

ARCHIE COMICS SPECTACULAR PARTY TIME TP

$5.99

ARC

555

255

0.47

HAGANAI I DONT HAVE MANY FRIENDS GN VOL 09 (MR)

$12.99

ST.

555

256

0.46

JUSTICE LEAGUE TP VOL 02 THE VILLAINS JOURNEY (N52)

$16.99

DC

552

257

0.46

MARVEL ADVENTURES TP THOR BRINGERS OF STORM DIGEST

$9.99

MAR

551

258

0.46

CREEPY ARCHIVES HC VOL 20

$49.99

DAR

549

259

0.46

BATMAN YEAR ONE DELUXE SC

$14.99

DC

549

260

0.46

MOBILE SUIT GUNDAM ORIGIN HC VOL 07

$29.95

RAN

548

261

0.46

HONEY BLOOD GN VOL 01

$9.99

VIZ

548

262

0.46

WALKING DEAD TP VOL 07 THE CALM BEFORE

$14.99

IMA

547

263

0.46

ART OF BOOK OF LIFE HC

$34.99

DAR

546

264

0.46

NIGHTWING TP VOL 01 TRAPS AND TRAPEZES (N52)

$14.99

DC

544

265

0.46

FATALE TP VOL 05 CURSE THE DEMON (MR)

$14.99

IMA

542

266

0.46

VAMPIRELLA ARCHIVES HC VOL 10 (MR)

$49.99