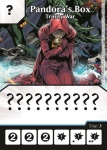 WizKids has announced organized play programs behind two more of its
Dice Masters
lines,
Dungeons & Dragons
and
DC Comics
, for 2015.
DC Comics Dice Masters
: Trinity War Storyline Organized Play kicks off a five month program in March. In the storyline, the Justice League struggles with other heroes on a path to understand "Trinity," and to unlock the secrets of Pandora's Box. Each monthly kit contains ten Participation Cards, enough for ten players, and three prize cards; the final kit contains three grand prize cards with corresponding dice. DC is launching its DC Dice Masters line the same month, in March (see "
'DC Dice Masters Justice League Dice- Building Game'
").
Monthly kits for
D&D Dice Masters
will launch in April. Each will include five copies each of two limited edition Prize Cards, 20 limited Participation cards, and instruction sheet.
D&D Dice Masters
was scheduled to launch in November with
Battle of Faerun
(see "
'D&D Dice Masters'
").