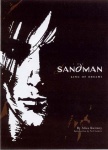 Chronicle Books plans to release a hardcover book about the behind-the-scenes life of Neil Gaiman's award winning Sandman series entitled The Sandman: King of Dreams. Written by former Vertigo Comics editor and writer Alisa Kwitney, Sandman: King of Dreams explores the series' beginnings and unique literary power through never before published behind-the-scenes stories, handwritten notes, and interviews with Gaiman.
The Sandman:

King of Dreams
will retail for $35.00 and ship in November of 2003.

The book will be 8 x 1-1/2 inches, and consist of 180 pages, with 167 color and black and white illustrations.