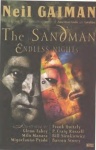 According to DC Comics VP-Direct Sales Bob Wayne, Neil Gaiman's Sandman: Endless Nights hardcover, shipping later this month, produced '...the largest order the book trade has ever made for any single [DC] item.' He speculated that bookstore buyers were looking at Gaiman's recent sales in that channel. 'The mass market distribution channel collectively has ordered Sandman: Endless Nights like it's the next best-selling Neil Gaiman book after American Gods,' he said. The Hugo Award-winning novel sold around 600,000 copies combined in its hardcover and mass market paperback editions, mostly in bookstores (see 'Neil Gaiman's Triumphant Return to Comics').
DC has purchased premium display positions in major book chains for the title, which will add to its visibility in that channel. Wayne stressed that the quantities ordered mean that the book chains will probably move the title quickly to the shelves. 'It's going to move through that channel that much faster just because of the sheer size of the number of pallets going into distribution hubs,' he said. This means that although pop culture stores serviced by Diamond are probably still going to have a time advantage on the title, that advantage may not be as long as it is on other DC book format products.
Another implication of the big quantities, high visibility, and quick movement in the book channel is that pop culture stores may lose sales to that channel if they don't order to keep the book in stock throughout the first weeks of sales, according to Wayne. 'It's a concern to me that some of my guys, some of the customers that I service, are counting on reorders on that book, and they're going to end up missing sales while they're waiting for their reorders,' he said.
The question for retailers still fine-tuning their inventory positions on the book (which streets September 17th) is the size of the market in the different channels, and how much of it crosses over.

Although consumers were first introduced to Gaiman in the comic channel, where his Sandman books established him as a best-selling writer, the Sandman trade paperbacks had a steady increase in sales through bookstores over the years after their release, and American Gods introduced Gaiman to a new set of consumers that had never purchased his work before.

The sizes of those respective groups, and whether customers are 'captive' to a particular channel or will buy the book wherever they see it first will determine where the sales on the title are captured.