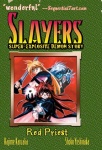 A Paid Advertisement. The saga continues! Lina Inverse... captured?! The forces of evil have triumphed and Lina is in the clutches of a band of sinister brigands in the employ of a mysterious and powerful man. And what happened to Gourry? Can he possibly rescue Lina or has he got bigger problems of his own? Perhaps the beneficent Red Rezo holds the power to rescue The Slayers!
By Hajime Kanzaka, the creator of The Slayers and Lost Universe video series, and featuring the artwork of Shoko Yoshinaka. Character designs by Rui Araizumi.
Scheduled to ship: 12/3/2003
Original Manga: Japanese style right to left format book.
Rating: Age 13 and up
Digest Size: 5.625' X 8.125'
Black and white
176 pages
SRP: $15.95
ISBN: 1-58664-913-2
UPC: 7-19987-00646-1-00311
Bookland EAN: 978-158664913-5-51595
Catalog number: CMX 64603G
Order Cut-Off: 11/3/2003
For more information check out CPM Manga's electronic press kit at: http://www.centralparkmedia.com