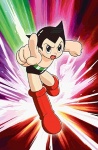 The Kids' WB has announced the long-awaited debut of the new Astro Boy series on Saturday, January 17 at 8:30 am (ET, PT) as part of the popular Kids' WB Saturday morning block. The Kids' WB will present 25 episodes of the new Astro Boy series, produced by Sony Pictures Entertainment and Tezuka Productions.
Created fifty years ago by Japan's 'God of manga,' Osamu Tezuka, Astro Boy was one of the first anime series imported to the US in the 1960s. Tezuka oversaw a second color version of Astro Boy in the early 1980s. The new Astro Boy series, which features computer-generated animation, debuted in Japan, on April 6, 2003, the date Tezuka chose as the birthday for his most popular creation.
In addition to its exposure on what is far and away the top Saturday morning TV venue, the new Astro Boy series should benefit from two major promotions in 2004. Starting in February, ice-pop maker Jel-Sert will include 'instant-win' collectible trading cards in 4 million packages of its Pop-Ice Popsicles. In April an on-air sweepstakes on the Kids' WB will award a winner a 'truckload' of Popsicles (or the cash equivalent of $15,000).
Then, during next summer, fast food chains Hardees and Carl's Jr. will offer Astro Boy Cool Kids Meals at more than 3000 restaurants nationwide. The meals will include one of four Astro Boy-themed premiums. All this TV and advertising exposure should help bring this deserving property back into prominence. Certainly Dark Horse's Astro Boy manga series should get a big boost, but look for all sorts of cool Astro Boy toys in 2005 if the property regains a foothold in the American market (see 'Bandai America Named Master Toy Licensee').