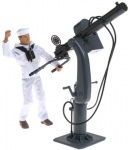 The $140 million dollar Disney film version of Pearl Harbor opened this weekend to critical brickbats and a hyped-up audience (see 'Pearl Harbor May Overwhelm Box Office'). Disney only licensed two 'Pearl Harbor' items, an aviator's watch and Ray Ban sunglasses, neither of which is of much interest to pop culture retailers. But go to any bookstore or turn on your TV and you will see plenty of examples of unlicensed piggybacking by publishers and networks who are eager to tap into some of that Pearl Harbor mania. Perhaps the most interesting example of this 'coincidental' marketing for pop culture retailers who deal in toys is Hasbro's new line of Pearl Harbor G.I. Joe figures, that just happened to hit the marketplace the same week that Disney's blockbuster debuted.
Hasbro has been hurting (see 'Hasbro Results Cite Pokemon Decline' ), and after suffering big losses with its costly Star Wars license, the company has cut back on its movie licensing and tried to concentrate whenever possible on brands that it owns, like G.I. Joe. When G.I. Joe was introduced back in 1964 it was one of the first action figures and extremely popular. Over the years the toy, reflecting the changing moods of the country, became a big-game hunter in the war-weary 70s, an anti-terrorist commando in the 80s, and a Gulf-war soldier in the 90s. Recently he's been an also-ran, finishing 8th among action figures last year far behind Mattel's bland and boring Max Steel.
In order to revive the G.I. Joe franchise Hasbro has adopted a two-tiered approach. The Pearl Harbor Collection G.I. Joes are aimed squarely at collectors with price points up to $30 per figure and highly detailed uniforms and weapons. The collector-oriented G.I. Joe was conceived to compete with the Elite Force military dolls from Dragon Models and the Ultimate Soldiers line from 21st Century Toys, which was just acquired by Jakks Pacific (see 'Jakks Pacific To Acquire 21st Century Toys'), the company that makes the popular WWF action figures. Hasbro has dabbled in creating collector editions of G.I. Joe before, but the Pearl Harbor Collection marks it first sustained attempt to grab a piece of the military collectors market. Hasbro will be marketing the Pearl Harbor Collection via television spots on the History channel, which indicates that the company is serious about going after military history buffs.
Later this year Hasbro will release G.I. Joe 'Double Duty' figures which will be priced under $15, and will come with two different sets of gear.

Unlike the Pearl Harbor Collection, the Double Duty figures were conceived as toys to play with and will be marketed to children rather than collectors.

Look for a revival of the G.I. Joe comic book this fall, but unless Hasbro can come up with some sort of television series for its venerable military hero, it will have trouble competing with Max Steel and his ilk for a major share of the kids' action figure market.

So a lot may be riding on the Pearl Harbor Collection and Hasbro's attempt to establish a base with collectors from which G.I. Joe can once again march out and command the attention of America's boys.