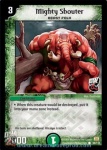 Wizards of the Coast's Duel Masters collectible card game, which will debut this March with a full complement of Starter Decks and Booster Packs, will be followed by four additional releases in the next twelve months. One of only three mega-hit properties (Pokemon and Yu-Gi-Oh are the other two) out of some 228 CCGs released in Japan since 1993 (see 'Duel Masters Anime on Cartoon Network'), Duel Masters is a multi-media property with comic books from Dreamwave Productions, a toy line from Hasbro, electronic games from several manufacturers, and an anime series which will become part of the Cartoon Network's Saturday evening lineup starting on March 13. Here's a quick look at the first batch of Duel Masters Expansions.
Evil Crushinators of Doom
The first expansion for Duel Masters, the Evil Crushinators of Doom, is due out in May and includes two themed decks as well as booster packs, which introduce 60 new cards to the game.
Rampage of the Sorcerer
Rampage of the Sorcerer is another 60-card Duel Masters expansion. Rampage will be released in August, but it will be boosters only -- no themed decks.
Shadow Clash of the Blinding Light
The third expansion for Duel Masters debuts in November and adds 60 more cards to game. In addition to booster packs, WotC is also planning to create a gift sku, possibly packaged in a decorative tin.
Survivors of the Mega Apocalypse
The fourth Duel Masters expansion, Survivors of the Mega Apocalypse, is currently scheduled for January 2005. It will add another 60 cards to the game. Long range plans for Duel Masters, which has been out in Japan since 2002 so WotC has had plenty of opportunities to tweak and refine its DM releases, call for a major release in the spring of 2005, followed by 60-card expansions at 3-month intervals.