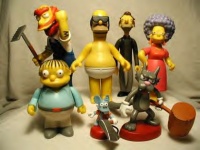 The 'Comics' and 'Toy' categories got very competitive in May with the successful debut of Marvel's revamped
X-Men
titles and the release of new
Simpsons
and
Tomb Raider
toys. Overall, the trends we have been spotting all year, especially the importance of high ticket items, and the growing dominance of the DVD format, continued unabated.
ICv2 would like to thank all the new retailers who provided numbers for this month's lists. We are still looking for more retailers to provide sell-through numbers for any or all of our categories. If you are interested, please e-mail tflinn@icv2.com
Now let's take a look at the May lists:
Comics
Marvel came on with a vengeance in May, placing four X books in the top 10, including the New X-Men #114 with the new creative team of Grant Morrison and Frank Quitely; Uncanny X-Men #394 with its new team of Joe Casey and Ian Churchill, and the controversial X-Force #116 (see 'Look Kids, No Comics Code') by Peter Milligan and Mike Allred. DC's Green Arrow, written by Kevin Smith, still remains white hot, while The Spirit Archives Vol.4 and the Green Lantern: Willworld hardcover demonstrated once again the potential of high ticket items to generate big sales.
Games
The 'Games' category also got very competitive in May, thanks to the release of the Mage Knight: Lancers Expansion Pack, which brought a entirely new dimension to the popular collectible miniatures game (see 'December Product of the Month'). Mage Knight's continuing strength can be seen in the number five position for Mage Knight Rebellion: Booster Packs, which have been on this list since we started compiling it some six months ago. The other products that have been on our bestseller list all year are both from Wizards of the Coast (Pokemon Neo-Genesis Boosters and Magic: Invasion Boosters). WOTC's new Magic release (Seventh Edition Boosters) came in second this month, while the Pokemon Neo Genesis Boosters slipped to sixth. In addition to all its various CCG products, WOTC has done an excellent job of revising Dungeons and Dragons, as evidenced by the new Forgotten Realms hardcover in the number four spot. The Dragonball Z CCG from Score remains strong, and a new CCG, Warlord, which is based on the hit RPG, made it into the top 10 at number seven.
Movie/TV
DVD rules this category with eight out of ten slots going to digital discs. Note that in specialty stores, products based on older movies and television series can do very well. The venerable English series The Avengers and The Prisoner each placed two DVD collections in the top ten, while vintage Superman films took the top two spots. Also note the high ranking of the X-Files Season Three DVD -- collectors love to have all the episodes arranged as they were broadcast in these 'season-by-season' collections (see 'Simpsons Season 1 DVD'). Remember too that the number of collectors of DVDs is growing, so demand for these classic DVDs should continue.
Toys
Mass market toys made a comeback in May thanks to The Simpsons, who grabbed the top two spots with their fourth series of toys from Playmates, and to the Tomb Raider Action Figures, which include a sexy, pumped-up Lara Croft. Simpsons' creator Matt Groening's Futurama remained in the top ten once again thanks to a great series of toys from Moore Action Collectibles, but the rest of the list was pretty much dominated by high ticket, comic-based sculptures and busts.
Anime
DVDs continue to dominate this category for all the usual reasons, better picture, better sound, better storage, and, in most cases, twin soundtracks that eliminate the 'dub' versus 'sub' controversy.

Eight out of the top ten items are DVDs, with VHS representation limited to popular series like Gundam and Martian Successor Nadesico.

Once again note that the top item, Magic Knight Rayearth 2 Memorial Collection DVD contains an entire season's worth of episodes on seven discs.