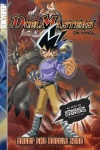 Tokyopop is rapidly ramping up its Cine-Manga production this year and next, according to Tokyopop COO John Parker and senior Cine-Manga editor Elizabeth Hurchalla, who we spoke to at the recently completed BookExpo America show (see 'Graphic Novels Take Another Step Up at BEA'). Cine-Manga use stills from movies or TV shows with word balloons and other comic elements to product a comic version of a movie or an episode.
Tokyopop plans to release 48 Cine-Manga volumes in 2004, featuring 18-20 properties, and 75 volumes in 2005. Production will then be stabilized at around 75 volumes per year.
Top sellers for the line, which sold over one million pieces in 2003, have been Spongebob Squarepants, Lizzie McGuire, and Finding Nemo.
Major outlets for Cine-Manga include Target, Wal-Mart, Toys R Us, and the Scholastic book fairs.
Properties are being chosen to appeal to both boys and girls, primarily in the 8-12 age group. Lizzie McGuire has been a top girls title; Transformers and Power Rangers appeal primarily to boys, and Spongebob is half boys, half girls. Tokyopop recently announced that it will be producing Cine-Manga based on several Fox shows (see 'Tokyopop To Publish Cine-Manga Based on Fox TV Shows'), which have a somewhat older audience.
One upcoming title that looks like a particularly good seller is Duel Masters, according to Parker.

Not only did it sell in to normal channels strong, it was also picked up by warehouse clubs.