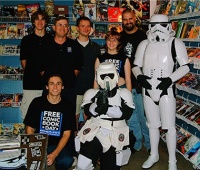 Ned Stacey of Cosmic Cat Comics & Games in Tallahassee, Florida had a big day on Free Comic Book Day:
Free Comic Book Day at Cosmic Cat Comics, for the third year, was a huge success. Leading up to the event, the local paper ran a joint article concerning the opening of the Spider-Man movie and FCBD. We also were in the local calendar of events and there was a reminder for things to do on the weekend on the first page of the local section. Can't ask for more than that can we?
This year we had two local comic artists showing their work. Blake Kandzer who self-publishes Raze was here for last years FCBD and again spent the day this year signing his latest issue of Raze. Billy Penn who finished #6 in Comic Book Idol showed off his portfolio and discussed with customers the experience of creating the assignments given by the folks at Comic Book Resources, the sponsor of Comic Book Idol. Overall for not being top name artists, their reception by our customers was great.
To really top it off this year, we brought in 2 Stormtroopers for the 501st Legion, the premier Star Wars costuming group in the world. Joyce Young and Rob Barfield were the hit of the day. Kids loved them as well as adults.
Of course we gave away many many comic books. The Cosmic Cat had the full run for FCBD offerings as well as quality titles which we just have too many of. What better way to clear space, give them away. Not to mention the free Heroclix of Spider-Man. A nice intro to the game. Overall we had a great Saturday. We look forward to next year.
The opinions expressed in this Talk Back article are solely those of the writer, and do not necessarily reflect the views of the editorial staff of ICv2.com.