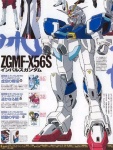 Japanese anime magazines such as Newtype and Animage are reporting that a sequel to the highly popular Gundam Seed anime series is in the works and that it is expected to debut on Japanese TV in October. The original Gundam Seed production staff is returning for the new series, Gundam Seed Destiny, which takes place two years after the conclusion of the original Gundam Seed. Of course each new Gundam series requires new mecha and Gundam Seed Destiny's is the ZGMF-X565, which relies on batteries that can be replenished from a distance by its mothership. The cockpit of the new mecha transforms into a fighter called the 'Core Splendor.'
In Japan Gundam Seed has proven to be the most popular iteration of the long running Gundam phenomenon in years with the series ranking near the top of the Newtype Reader Poll and four female and four male characters generally ranking in their respective top 10 character polls.
In the U.S., Gundam Seed has just started to get established. The anime has been running on Saturday nights on the Cartoon Network, and the first volume of the Gundam Seed manga series from Del Rey got off to a strong start (see 'Del Rey Manga Line Launches Strong'). Bandai Entertainment will launch the first U.S. Gundam Seed DVDs in August and Bandai America (see 'Bandai Preps Gundam Seed DVDs') has announced a Gundam Seed toy line (see 'Bandai American Looks Beyond Japan').