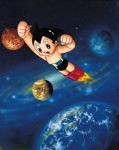 ICv2 has learned that Dark Horse Comics has just acquired the license to publish the entire 23-volume Astro Boy manga series, which was published in Japan as Tetsuwan Atomu (literally 'Mighty Atom'). The first volume in this classic manga by Osamu Tezuka, the founding father of modern manga and anime, will make its debut in English in March of 2002. Rather than slicing and dicing Astro Boy into 32-page segments, Dark Horse will publish the series in the same book format used for the collected series in Japan -- 4-1/2 inch by 7 inch trade paperbacks each with over 200 pages of brilliant black and white art. The volumes will read left to right, front to back in the conventional western manner and will retail for $9.95 each. The audience for this series includes buyers of contemporary manga and anime, who will find in Tezuka's work the source of much of the charm and style that they enjoy in reading manga, as well as a potentially larger group of older fans, who fondly remember the Astro Boy television series from the 1970s.
During the past year Dark Horse Comics has very successfully reintroduced the classic manga properties Lone Wolf & Cub and Akira to the U.S. market (see 'Dark Horse Retro Manga Boffo'). Dark Horse published both Lone Wolf & Cub and Akira in trade paperback collections, a format which fits perfectly with the expansive manga style of narration that uses many panels to breakdown the action. In the Astro Boy series readers will have a chance to see manga storytelling in one of its purest forms.
As Frank Miller and others have noted, Japanese comics are more like movies than their American counterparts. If any one person is responsible for the cinematic nature of manga it is Osamu Tezuka, who adored the animation of the Walt Disney Studio (he saw Bambi 80 times), and dreamed of creating his own animated films.

But in the aftermath of the devastation of World War II, there was no money in Japan for making expensive animated cartoons, so Tezuka, who was trained as a doctor, turned to drawing comics and immediately started treating them like storyboards, breaking scenes up into many panels of different sizes containing close-ups, inserts, and longshots all sequenced to tell the story visually.

Tezuka not only invented the manga style, he had something to say.

He was a master storyteller with a talent for creating memorable characters, whose work ranges from Disney-esque fables like The Jungle Emperor (which was ironically reincarnated as The Lion King), to a historical/political thriller of great complexity like Adolph (published in the U.S. by Viz), to deeply philosophical comics that touch on the essential mysteries of life like The Phoenix.

Despite the fact that Tezuka did eventually get to create his own animated cartoons (hence anime and the Astro Boy TV series), he never stopped drawing manga and his output was truly prodigious. During his long career he wrote and drew some 150,000 pages of comics!

Think about the amount of effort involved -- this is a record that will last longer than Cal Ripken's consecutive game streak.