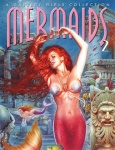 Tucked inside the massive monthly listings of products from comic distributors like Diamond and FM are the modest offerings of SQP, typically a group of trade paperbacks which retail for under ten dollars each. These volumes, which are found in the 'Books' section of Previews, don't benefit from full page advertisements or from creator interviews inserted as 'advertorials,' all they do is sell in real pop culture stores to real people. The SQP collections feature excellent reproductions of sexy images rendered by experienced professional artists such as Joe Chiodo, Fastner & Larson, Mitch Byrd, Esteban Moroto, and Rudy Nebres. Typically the SQP albums run 64 pages in a generous 8-inch by 11-inch format.
SQP's books shipping in November represent a good cross section of their line. Leading off the offerings is Mermaids, Volume Two, a collection of sexy images of those amorous amphibians with artwork by Arantza, Pelaez, Mitch Byrd, Cuevas, Juan Cano, Meriggi, James Ryman and many others. SQP does a good job of keeping its books in print, so Mermaids, Volume One is also available and ready for shipping so retailers can stock both volumes in the series.
Other November SQP offerings include: Cruel and Unusual, a great collection of art by Greg Loudon, who has done full color paintings for Marvel, White Wolf, and Wizards of the Coast; A Touch of Magic, a collection of works by Douglas Shuler, who has painted numerous outstanding illustrations for WOTC's CCG, Magic, The Gathering; and Masquerade, great fantasy art by Maren, one of the premiere cover illustrators in Europe.
Retailers who can sell pin-up and 'good girl' art, but who don't stock SQP books should give them a try.

Order in small quantities and reorder when the titles sell out.

SQP does a good job of keeping their best titles in print, and also provides retailers with enough new items every month to keep the line fresh. SQP books are available from FM International, Diamond Comic Distributors, and Last Gasp.