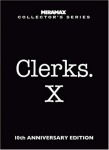 The Hollywood trades are reporting that writer/director/actor Kevin Smith will direct a sequel to his first film, Clerks, which debuted in 1994. Smith became interested in returning to the property while working on the tenth anniversary edition of the Clerks DVD last year, telling the Hollywood Reporter, 'The whole process reminded me why I got into the film business in the first place: to make talky, low-budget comedies.'
Smith's new script about the older, but not necessarily wiser clerks, Dante and Randal, has been approved by Miramax and shooting is set to start in January on the project, which is currently titled The Passion of the Clerks and which brings back the original cast including Brian O'Halloran (Dante), Jeff Anderson (Randal), Jason Mewes (Jay), and Kevin Smith (Silent Bob).
The Tenth Anniversary 3-Disk Clerks DVD will be released on September 7. In addition to DVDs Clerks has spawned comics and trade paperbacks from Image as well as action figures and t-shirts from Graphitti Designs -- so a sequel that will keep this property in the public eye is good news for pop culture retailers.