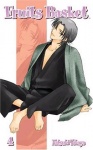 The most recent BookScan survey of graphic novel sales in bookstores finds Tokyopop's shoujo powerhouse Fruits Basket #4 still perched on top of the list (see 'Fruits Basket Tops Bookstore Graphic Novel Sales'). Fruits Basket, which according to Tokyopop is the best-selling shoujo series in Japan, has become, along with Rurouni Kenshin and Naruto, one of the premier manga properties here in the States during 2004.
For the week ending August 22 Fruits Basket #4 held a comfortable lead over Rurouni Kenshin Vol. #6, which was followed closely by Naruto Vol #4. Del Rey's Negima Vol. #2 came in at #4, followed by Tokyopop's D.N. Angel #3. Viz's Ceres, Celestial Legend #8 and Tokyopop's Samurai Deeper Kyo Vol.#8 made the top ten this week. Viz placed five titles in the top ten followed by Tokyopop with four and Del Rey with one.
The highest-ranking American title was Alan Moore and Kevin O'Neill's League of Extraordinary Gentlemen Vol.#2, which came in at #20. LOEG has done particularly well in bookstores, demonstrating that it is a title retailers should definitely not ignore, particularly during the holiday season. The other American books that made the top fifty were the latest Foxtrot collection, which came in at #38, and Brian Michael Bendis' Ultimate Spider-Man Vol. #10, which held down the fiftieth spot.