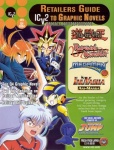 An ICv2 Release. ICv2 has announced the release of its third ICv2 Retailers Guide to Graphic Novels. The Guide is being distributed free to retailers by book and comic distributors, by mail, and at shows. Contents include an updated market report based on recent interviews with graphic novel distributors and retailers (see 'Graphic Novel Market Still Expanding').
The issue also covers holiday merchandising, including interviews with two retailers, one in urban Chicago and one in suburban Dallas/Fort Worth, on how they get the most out of the holidays in their stores.
Further help for retailers in getting ready for the holidays includes the Top 25 Manga properties, top new releases in all the graphic novel categories, and a holiday gift guide.
The Guide is available free to retailers (send an e-mail to Dviau@ICv2.com) and to others for $10 plus postage and handling via the ICv2 online store (click here).