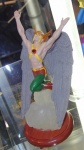 DC Direct, DC Comics' line of three-dimensional products aimed specifically at pop culture retailers, is the envy of other comic publishers. Already the industry leader, DC Direct has a huge slate of products on tap for 2002, which will make it unlikely that any challenge to DC's dominance in this increasingly important product area will succeed (although Marvel is going to give it a try with Diamond Select's help; see 'Diamond Select To Do Ultimate Statues'). The toy collecting boom of the late 1990s has lost a good deal of steam, but statues, busts, action figures, and PVCs based directly on popular comic characters continue to do well and dominate sales in the toy category on ICv2's monthly surveys of actual store sales (see 'Top Ten Cool For June') -- and a high percentage of those top ten items are from DC Direct. Here's a quick overview of what's brewing at DC Direct through the end of this year and well into 2002.
Statues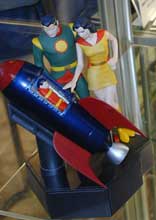 DC Direct's high end statuary has been the linchpin of the entire comic-based line. In addition to creating memorable statues, DC Direct does a good job of coordinating its products with events in the world of DC comics. For example, Hawkman, whose return is currently leading to the revival of JSA comics, is due in stores in mid-November in the form of a fully painted $195 statue. Writer Kevin Smith has made Green Arrow one of the very top comic series of 2001 and DC Direct has its Green Arrow statue set to hit retailer shelves in mid-January of 2002. DC Direct has done an excellent job of spreading its offerings out throughout the year so that retailers will have fresh, salable product in the typically product-poor first quarter of the year. The superb statue depicting Superman's departure from Krypton, will be out in February. The Dark Knight Strikes Again Statue, based on the new Dark Knight series by Frank Miller should also be out in first quarter, and the Krypto statue will reach retailers during April of 2002. Less expensive mini-busts of Classic Superman and Batman will be available in January and March respectively for a retail price of $45.
Action Figures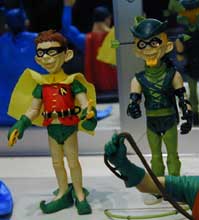 Mad's Alfred E. Neuman impersonates a number of key DC superheroes starting this October with the release of the Alfred E. Neuman as Superman and as Batman action figures. March of 2002 will see the 'What Me Worry' kid dressed as Green Lantern and The Flash, while Alfred E. Neuman as the Green Arrow and Alfred E. Neuman as Robin action figures will be reach retailers shelves in September. This really must be the 'Neumanium.' In spite of the many heroic and humorous 'takes' it inspires, DC Comics' superhero line is not the publisher's only source of action figure inspiration. Three Sandman action figures based on the popular Vertigo series will appear in November, while three figures based on another popular Vertigo title, Warren Ellis' Planetary, will hit the streets in late December. Two Green Lantern action figures (Tomar Re and John Stewart) will be out in late January of 2002 followed by two more Green Lantern figures (Kyle Rayner and Fatality) in February. Black Adam and Shazam action figures will be in stores in early April of 2002 followed by the Silver Age Superboy and Supergirl (with Kypto and Streaky) Deluxe Action Figure Set in the third quarter of 2002.
Props and PVCs
Hal Jordan's Green Lantern Power Ring Prop will be available in September of 2001 followed by the Sinestro Green Lantern Power Ring in June of 2002 and Kyle Rayner's Green Lantern Power Ring in October of 2002. The Sandman 'Sandglobe' hits the shelves in September of 2001 followed by the Harley Quinn Musical Snowglobe in November, and the Wonder Woman Snowglobe in February. DC Direct is also creating some soft toys including the Ace the Bathound Soft Toy, which will in stores in January 2002, followed by the Sugar & Spice Soft Toy 2-pack in May of 2002. DC Direct has also created some deluxe PVC sets including the Smallville PVC Set (see 'DC Direct To Do Smallville PVCs'), based on the new series about Superman's youth that will debut this fall on the WB network. The Smallville set will reach stores in early December and will retail for $39.95. The Metal Men PVC set (also $39.95) will bow near the end of January 2002.