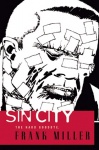 The Sin City movie directed by Frank Miller and Robert Rodriguez is currently slated to debut in theaters across the U.S. on April 1, 2005. Trailers for the film should start appearing in theaters sometime just after Christmas. Anyone who has seen the trailers that are available online can attest to the incredible similarity between the visual style of the movie and the graphic novels upon which it is based.
With a stellar cast that includes Bruce Willis, Mickey Rourke, Benicio Del Toro, Jessica Alba, and Elijah Wood, the Sin City movie should represent a major opportunity for pop culture retailers, since Dark Horse has published seven Sin City trade paperbacks and the movie should provoke an interest in Frank Miller's hardboiled creations among a huge new audience.
Dark Horse has been busy reprinting the original editions of the Sin City saga and all of the familiar version of the Sin City trade paperbacks should be available from Dark Horse (via Diamond) within the next two weeks, with the exception of The Big Fat Kill, which is currently only available in hardcover.
But starting in January 2005, Dark Horse will issue new versions of its Sin City trades. The books will be re-designed by master designer Chip Kidd and will be reformatted to a six-inch by nine-inch size. The new editions will all have volume numbers on their spines, and the first volume (originally entitled simply Sin City) will have an added subtitle, The Hard Goodbye. The cover prices will be the same as on the original volumes.
Here is the release schedule for the new editions in 2005:
January
Sin City: The Hard Goodbye Vol. #1
Sin City: A Dame to Kill For Vol. #2
February
Sin City: The Big Fat Kill Vol. #3
Sin City: That Yellow Bastard Vol. #4
March
Sin City: Family Values Vol. #5
April
Sin City: Booze, Broads, & Bullets Vol. #6
Sin City: Hell and Back Vol. #7
In addition to the trade paperbacks, Dark Horse has produced a number of Sin City items including coasters, zippo lighters, prints and a shot glass. Dynamic Forces also has produced a superbly sculpted Marv statue as well as a print, and Davis Marketing Services has several Sin City posters produced in Europe by 1000 Editions.