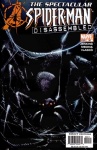 Marvel has announced that it will cancel Spectacular Spider-Man with issue #27, set to release next March. The reason for the cancellation is the departure of writer Paul Jenkins, who has been associated with the title for the past four plus years.
Marvel EIC Joe Quesada explained. 'Spectacular Spidey was created for Paul and Humberto to tell their brand of Spider-Man stories,' he said. 'Without them attached to the series we've decided to close up shop on the title and call it a day with issue #27.'
Jenkins has had a number of health problems over the past few years, including six knee and ankle surgeries and a staph infection following one of them, and is taking some time off from writing comics to recharge. Both he and Quesada referred to upcoming announcements of other Marvel comics products in the future, however.
Jenkins will have written 56 issues of the title, with art by Mark Buckingham and, more recently, by Humberto Ramos.