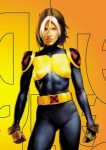 The latest issue of Diamond Previews contains a full color, two-page spread featuring full color art from eight cards for the new Marvel Recharge Collectible Card Game that is set to debut in November. Marvel's OverPower CCG was a major success in the mid 1990s, perhaps the only real benefit that Marvel reaped from its hugely expensive purchase of Fleer/SkyBox. But as was the case with the once extremely popular Marvel Trading Cards, which were also produced by Fleer/SkyBox, Marvel managed to kill OverPower with overproduction and poor product management of what was once the leading licensed property in the CCG field. Now that Topps has done a solid job of beginning the rehabilitation process for the regular Marvel trading cards (see 'Topps to Revive the Marvel Card Franchise'), Marvel is planning to move back into the lucrative CCG arena on its own. The aptly named Marvel Recharge CCG is set to debut in November, and Marvel is hoping that the new game will put a jolt into the CCG category by reviving the sales punch of OverPower and obliterating the memory of WOTC's ill-fated X-Men CCG.
Marvel's decision to create the Recharge game in-house is very interesting considering the 'House of Ideas'' recent outsourcing of resins, busts, and statues to Diamond Select (see 'Diamond Select to Do Ultimate Statues'). Marvel President Bill Jemas' experience with Fleer (the company that created the Marvel OverPower game in the first place) has no doubt played a role in Marvel keeping this potentially lucrative license in-house. Details about the new Marvel Recharge game remain murky (and subject to change), but current plans envisage a 250-card series that features 150 unique game cards and 100 'Power Plus' foil stamped cards featuring Marvel's top heroes. Recharge will be published in the standard CCG format of Starter Decks, which include enough cards for two players to begin playing the game, and booster packs which will allow players to customize their decks.
Look for more information about the Marvel Recharge CCG to be made public soon.

Though the game will be listed in both the Diamond and Alliance catalogs, a spokesperson for Marvel indicated to ICv2 that the publisher would be selling the Marvel Recharge CCG to other game distributors.

ICv2 will have more information on the makeup and distribution of the Marvel Recharge CCG as it becomes available.