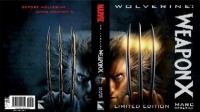 In early November, Marvel released its third prose title, Wolverine: Weapon X, by Marc Cerasini. Cerasini is a veteran of numerous adaptations, chapter books and novelizations, including Alien vs. Predator and The SpongeBob SquarePants Movie. The book quickly passed all Marvel graphic novels in the weekly bookstore sales reports.
We recently spoke to Ruwan Jayatilleke, Editorial Director of Marvel Press, Marvel's prose line, about Wolverine: Weapon X and Marvel's plans for the line.
When was Wolverine: Weapon X released?
Wolverine: Weapon X prose made its way into comic book stores on November 1, 2004. It hit trade retail shelves a little later---November 10, 2004. Both channels did a great job of supporting this title and making it visible to their respective customer bases.
Can you give us some idea of the relative orders by channel, especially as compared to tMarvel graphic novels?
Typically, our graphic novel orders are split 50/50 in terms of copies going into the direct market and trade retail, but of course there are exceptions. On the Wolverine: Weapon X prose novel, the distribution numbers are closer to 70/30 split---70% going to trade retail bookstores, 30% to the direct market.
I did want to state that we've had solid support and interest from both channels, and will continue to cultivate our prose books, accordingly.
Can you give us some idea of how Wolverine: Weapon X is selling in the bookstores?
The weeks ending November 28th and December 5th, Wolverine: Weapon X sold better than all Marvel graphic novels in terms of trade retail sales only, according to Bookscan. Overall, the sales have been solid and well-paced for Marvel Press's initial launch into the adult prose hardcover market.
Where did the book show up on the adult fiction trade paperback Bookscan list?
It did not rank with current adult fiction trade hardcovers because this was a limited edition book and consequently, we did a smaller print run to support that goal. The print run and distribution plan just wouldn't support the numbers necessary to place and rank on a best-sellers list for adult fiction. The objective of the marketing and placement plan for this book was not to blow it out across all distribution channels by stacking shelves with numerous copies and then hope for immediate sales. I set out to create a good product with an air of uniqueness. The demand for the book has steadily grown from there.
The results speak for themselves, and are obviously quite good. Both traditional Marvel comic fans and non-comic fans have been very supportive by going to buy this novel in comic book stores and trade retail establishments. I am really glad that this was the chosen route as opposed to doing a gigantic print run and glutting bookshelves. Less was---and is---definitely more in this case---a lesson I have taken to heart.
Am I correct that Wolverine: Weapon X is the third Marvel prose title?
Wolverine: Weapon X by Marc Cerasini is Marvel Press's first prose title in the adult arena.
Jenny Lee, a co-worker of mine, edited Mary Jane 2. My influence on MJ2 was minimal. I started at Marvel around the time Jenny was finished editing the book.
Is this Wolverine book a lot more male-oriented in its target audience than Mary Jane?
I would say Wolverine fans and fans of science fiction and action-adventure were the target audience of the Wolverine book. I'm not sure comparing audiences of Mary Jane 2 and Wolverine: Weapon X prose is as simple as pointing to gender as the divider in terms of target audience. The Wolvie book falls within the sci-fi and action-adventure genres. The sensibilities and tastes of those readers are going to be vastly different than the ones of typical Mary Jane fans---beyond just wanting to read well-written engaging fiction. Plus I am hesitant to draw lines across gender because there are Logan fans who are female, love sci-fi, and still read YA fiction. I'd hate to get hate mail from loyal female readers.
Is Marvel still planning on 12 prose titles in 2005?
Marvel will be well represented in the prose world in the upcoming years with a variety of strategies and tactics. The exact number of releases has yet to be determined. What I can say now is that I am still working on the development of certain story arcs. My authors and I will be focusing on telling compelling stories featuring Marvel's best and brightest---and deadliest and darkest---characters couched in different genres of fiction.
Of course, this isn't diminishing anything that we have done with Logan in the Wolverine: Weapon X novel. With the success of our initial foray into adult fiction, we are assessing how wide a scope that we can have in the prose world, and how to better develop our characters outside the colored panels of comic books. There's a lot in store for next year, so brace yourself.