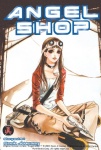 A Paid Advertisement. CPM Press is pleased to announce the upcoming release of their latest manhwa title Angel Shop Book 1 -- a romantic sci-fi saga of a young girl, her robot, and the boy she loves!
In a high-tech world, Boris finds out that his cute classmate Yuri Angel has created a robot that looks JUST like him! Annoyed by the robot's resemblance, and by its creator's lack of emotion, Boris hides the automaton in his room and sneaks into the Angel residence... pretending to be the robot itself. Now all he has to do is convince everyone that he is a mechanical being! But once he succeeds at the bizarre ploy, how does he get out of it?
Story and art by Sook Ji Hwang.
Ships on 2/28/2005, with a street date of 3/9/2005.
Original Manhwa: Korean left-to-right format book.
Rating: 13 and up.
Digest size: 5' x 7.375'.
Black & White
200 pages
SRP: $9.99
UPC Code: 7-19987-00690-4-00111
ISBN: 1-58664-986-8
Catalog #: CMX_69001G
For more information check out CPM Manga's electronic press kit at: