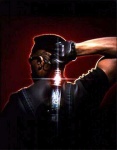 The second Blade movie isn't set to release until March of next year, but according to Variety, New Line has already made a deal with writer David Goyer for Blade 3. Goyer wrote the first Blade film as well as the sequel Blade 2, which director Guillermo del Toro just finished shooting in Prague. Under the new two-picture deal with New Line, Goyer will write and produce Blade 3 and then direct a second film from an original script. Having proven himself at the admittedly tough task of adapting comic book material to the screen, Goyer already has several four-color irons in the fire at other studios. He is writing and producing a Ghost Rider movie for Dimension and he also has a deal at Miramax to write and direct films based on Doctor Strange and Neil Gaiman's short story, 'Murder Mysteries.'
New Line's commitment to Blade demonstrates that the studio feels that Blade is one of its franchise properties. The studio has a third Austin Powers film in pre-production and it is also clear that New Line will continue its Rush Hour series, since Rush Hour 2 could well be the number two box office film of the year so far, second only to Shrek. Blade, Rush Hour and Austin Powers represent a troika of powerful film franchises that New Line seems ready to exploit to the hilt. And why not -- since sequels have fared very well at the box office this summer. So far New Line has done an excellent job of keeping key talent happy with its extended parade of sequels. Wesley Snipes and Kris Kristofferson both returned for Blade 2 and Jackie Chan and Chris Tucker have managed to make Rush Hour 2 even bigger than the original film. Signing Goyer to write Blade 3 shows that New Line wants to keep all the key talent in place as the series unfolds.
Variety also reported that Goyer's Ghost Rider film is in some difficulty.

Just a few weeks ago, Ghost Rider appeared to be ready to start production with a debut in 2003 almost assured (see 'Nicholas Cage To Be Ghost Rider'). Nicholas Cage was all set to star with Steve Norrington directing, when Norrington decided to direct Tick-Tock with Jennifer Lopez instead of Ghost Rider.

Now Goyer and the other Ghost Rider producers are looking for another helmer and trying to keep Nick Cage from jumping ship.

Stay tuned for details.