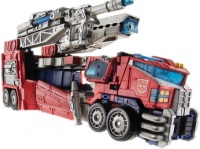 Hasbro has announced ambitious plans for its long-running Transformers property. A new Transformers anime series, Transformers Cybertron (known as Transformers Galaxy Force in Japan) will begin airing this summer on the Cartoon Network. With their home planet Cybertron in danger, Optimus Prime and the Autobots must locate the four Cyber Planet Keys before they fall into the hands of Megatron and his evil minions, the Decepticons.
In conjunction with the debut of the Transformers Cybertron anime series in July Hasbro will bring out its Transformers Cybertron toy line. While previous editions of the Transformers toys have had the ability to change between two modes, some of the new Cybertron toys have a special 'triple change' feature, which enables the toys to switch into three different modes. Hasbro will release a number of Transformers Cybertron toys this summer that will range in price from $6.99 to $49.99.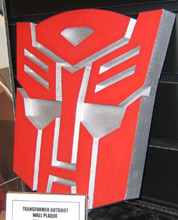 This July Diamond Select Toys will also release the first of its high-end Transformers collectibles, wall plaques featuring the logos of the Autobots and the Decepticons.