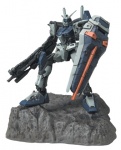 We walked past the Power Rangers and through the scented pink Strawberry Shortcake room to see the Gundam, Teen Titans, and D.I.C.E. action figure lines at the Bandai Toy Fair showrooms this week.
Gundam Seed
Although the Bandai rep said, 'It's not going to be a major extension for Gundam this year,' there are new model kits in three different skill levels, 4.5' action figures (regular, deluxe with 20 points of articulation, deluxe battle scarred, and mobile suit and action vehicle) and 7.5' action figures (each with 30 points of articulation, weapons, and action feature; plus the Arch Enemy collector line at $24.99 MSRP) streeting in June.
Teen Titans
Based on its success last year, this line is being expanded in 2005, with more characters (including secondary characters, villains and bad guys), and more scales of action figures, all for June release.
Series four of the popular 1.5' Teen Titans Comic Book Heroes sets will include comic pages that fit together to form an exclusive book, plus T-Sub or T-Tower parts that fit together when all the parts are collected.
The 3.5' figures will have new, refreshed packaging, with many new characters for 2005. The 3.5' line will include figures, Battling Machines, T-Vehicles, Deluxe T-Vehicles, and the T-Robo vehicle and playset, at MSRPs from $4.99 to $39.99. The Battling Machines, each of which comes with one 3.5' figure, transform from regular mode as everyday machines such as lawnmowers to battle mode. The high-end T-Robo will be a key Christmas item.
The 5' feature figures will have sounds or transforming action. The Cyborg, for example, shoots a propeller out of his head.
Plush hits the Teen Titans line, in the 6.5' Super Deformed Pals line. This is a new scale for Bandai.
The large-scale 10' figures are also a new Bandai scale.
D.I.C.E.

The good news for Bandai's D.I.C.E. line, based on internally generated intellectual property, is that a second batch of 26 episodes has been ordered for fall by the Cartoon Network, where it currently airs in the Saturday Toonami block.
The 4.5' action figures each come with the character's Gild suit, a trading card, and cool little gold bases. D.I.C.E. Machine Runner ($9.99), Attacker ($19.99), and Defender ($29.99) Vehicles each can hold one 4.5' figure. Also at the high end, 12' D.I.C.E. Gild Suit Action Figures will have lights, sounds, and missile firing action, as well as an exclusive 5.5' version of the character that fits inside the Gild Suit.
A $39.99 mothership will be released for Christmas.