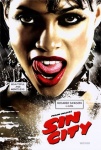 Sin City, which is based on a series of Dark Horse comic books by Frank Miller, easily claimed the box office crown over the weekend with an estimated gross of $28.1 million compared with just $13.5 million earned by the second place film, Beauty Shop. Opening in 3230 theaters, Sin City earned an average of $8,707 per location. The predominantly male audience for Sin City was front loaded with over $12 million of the total coming on Friday night, leading some industry observers to predict a precipitous drop of well over 50% for next weekend. However, given the lack of action films in the current marketplace and good word of mouth, Sin City could easily surprise the experts.
The film set a record for the biggest April opening ever for an 'R' rated film and had the third biggest opening total ever for the month.
Sin City graphic novels have been dominating the Top Ten for several weeks in the BookScan list of graphic novels sold in bookstores (see 'Sin City #1, #2, #3'), and the strong opening for the well-marketed and stylish Sin City film should ensure strong book sales for some weeks to come. Neo-noir crime thrillers have not exactly set the box office world on fire in recent years; L.A. Confidential's $64.6 million total makes it the genre's top performer, and Sin City has a chance to surpass it.
The computer-animated Robots, produced by Blue Sky Studio and distributed by Fox, dropped only 23% and became the second 2005 release to top the $100 million mark (Hitch starring Will Smith is the other).

CGI features have on occasion displayed considerable 'legs'--something that Robots will have to continue to do if it hopes to come close to total earned by Ice Age, the first of Blue Sky's computer-generated cartoon features.