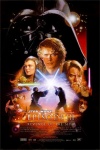 Star Wars Episode III: Revenge of the Sith followed up its record-shattering $50 million debut on Thursday (see 'Episode III Soars to Single Day Record') with the second best 3-day weekend box office performance in Hollywood history, an estimated $108.5 million, trailing only Spider-Man's $114.8 million weekend total. Revenge of the Sith's 4-day estimated gross of $158.8 million annihilated the Matrix Reloaded's previous mark of $134.2 million. For one weekend at least Hollywood's 2005 box office slump was stood on its ear, though the new Star Wars epic totals were not quite enough to top the box office performance on this weekend a year ago when Shrek 2 led a stronger group of films to a cumulative gross that was 4% higher.
Prior to Revenge of the Sith's record-setting single day total of $50 million on Thursday, the top 3-day weekend debut for any film in 2005 was Hitch's $43.1. Revenge of the Sith followed up its smashing Thursday debut by compiling the third best Friday ($33.8 million) and Saturday ($40.9 million) totals of all time -- giving it the all-time 3-day box office record (though not the all-time Friday to Sunday mark).
The question now becomes how 'front-loaded' will the final installment of the Star Wars saga be? Will it end up earning well over $400 million like The Phantom Menace or finish with just over $300 million like Attack of the Clones? The Phantom Menace did only 15% of its total business on its opening weekend, while Attack of the Clones earned 26.5% of its final gross during its front-loaded debut.
Next week the competition gets tougher with the debuts of the Adam Sandler remake of The Longest Yard and Dreamwork's major animated release of the summer Madagascar.

Will Revenge of the Sith continue to pull in older Star Wars fans and will the fan base spring for multiple viewings in this era when everyone knows the DVD will be out for the holidays?