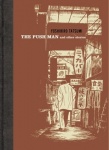 Drawn & Quarterly has announced its release plans for September and October, and they include not only the company's first manga, but also several other promising releases. The manga title is The Push Man and Other Stories, by Japanese alt grandfather Yoshihiro Tatsumi. This collection of short stories will be published as a 176-page hardcover at $19.95 in September, edited, designed, and with an introduction by Adrian Tomine.
Two other September releases feature the observations of artists on distant pilgrimages. Pyrongyang, by French-Canadian artist Guy Delisle, chronicles his observations from a trip to North Korean capital for his job as an animator in a 200-page hardcover at $24.95.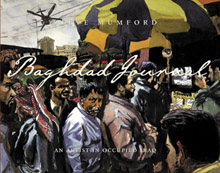 And Baghdad Journal, by New York City painter Steve Mumford, is an oversized (224 pages at $24.95) art book with water colors and his journal from his trips to Baghdad. It's already been featured in the New York Times, Harpers, and on ABC News.
For October, Drawn and Quarterly plans Wimbledon Green, by Seth, a 128-page hardcover at $19.95, which will feature 'a rollicking adventure of the world's best and most mysterious comic book collector.'