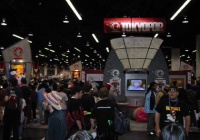 The 2005 Anime Expo, held at the Anaheim Convention Center in Anaheim, California, July 1-4 was a major success, with, according to Press Contact Chase Wang, 'approximately 33,000' fans and industry professionals in attendance.

This continues the significant growth in recent years, from 17,000 in 2003, to 25,000 in 2004 (see 'Anime Expo Up Nearly 50%'), with a 32% increase this year.
The show, which also featured an increase in exhibitors, from 58 last year to roughly 85 this year, expanded into a second hall to accommodate the additional booths.
As was the case last year, the pathways were wide, but still usually congested.

Many exhibitors commented that attendance seemed about the same, yet sales were brisker, leaving some vendors surprised as they sold out of some titles by the second day and wished they had brought more product.
Given the specialized nature of the show, ICv2 was not surprised to hear comments about how anime was selling even better at this show than it does at the much bigger (and much more diversified) San Diego ComiCon.
Overall, the mood was very positive, with exhibitors happy with their sales and the level of attendance.
Along with the always colorful and entertaining cosplay, another highlight of the show was Score's Inuyasha-Shikon Jewel TCG World Championship.

The winner walked away with $2,500, a beautiful trophy (see photo with Inuyasha voice actors Paul 'Naraku' Dobson and Moneca 'Kagome' Stori) and a signed Rumiko Takahashi alternative art card, as well as bragging rights, of course.

The rest of the top eight competitors won from $100 to $1,000.