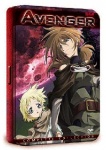 Bandai has announced three new releases (in addition to new volumes of continuing series) for November, including two Complete Collections and the third Gundam Seed movie. Avenger Complete Collection, which is the first release of this 13-episode series in North America (see 'Bandai To Release Avenger') will be released as a 3-episode set in a Limited Collector's Edition Avenger Tin Case on October 25th at an MSRP of $34.98. This series by Bee Train Studios, the creators of Dot Hack and Noir, features a gladiator, a doll breeder, and a mechanical doll with peculiar characteristics and their adventures on Mars.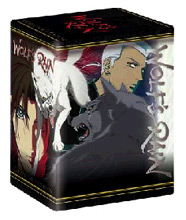 Bandai will release the Wolf's Rain Limited Complete Collection, a great holiday item, on November 22nd at an MSRP of $149.98. The Collection will consist of the entire 26-episode TV series, four bonus OVA episodes, and the Wolf's Rain Original Soundtrack CD in a collector's box. The Bones Studio series was a big hit in 2004, and was one of the reasons we gave Bandai our ICv2 Anime Company of the Year award for 2004 (see 'ICv2 2004 Anime Awards').
Bandai has also announced that it will release Gundam Seed Movie III on November 22nd in two versions, a regular edition at $29.98, and with a Limited Edition Collectible Art Box for $39.98.

The box will hold the entire Gundam Seed Movie Trilogy, which will have been released in its entirety this year (see 'Gundam Seed Movies Out this Summer').