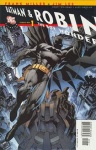 All Star Batman and Robin the Boy Wonder #1, DC's new comic by superstar creators Frank Miller and Jim Lee, with inks by Scott Williams and trade dress and logo by uber-designer Chip Kidd, is the best-selling full-priced comic since we started tracking comic sales in early 2001, and may be the best-selling comic since sometime in the mid-90s. With over 261,000 copies sold (and shipping with two covers), it easily bested Marvel's House of M #1, which sold a very strong 233,000 copies last month. We've excluded the 10 cent Batman, 9 cent Fantastic Four, and other promotionally priced issues from this comparison.
Brian Michael Bendis' New Avengers #7, House of M #3, and House of M #4 followed All Star Batman and Robin the Boy Wonder, with sales of 159,000, 152,000, and 147,000, respectively.
As seems to be the case most months, almost every title other than the big hits dropped, with only three titles in the top 25 increasing in sales vs. the previous issue: Ultimate Fantastic Four, Ultimate X-Men, and Superman.
The publisher distribution among the top titles was perhaps slightly more DC-favorable, with DC holding three of the top ten and eight of the top 25 titles.
Dynamite Publishing had the top title not from the Big Two in July; Red Sonja #1 (featuring five covers) sold over 80,000 copies, putting it in the #14 slot. The next title from a non-Big Two publisher was Serenity #1 (with three different covers), from Dark Horse, at around 38,500 copies in the #49 slot.
It's worth noting that the multiple cover phenomenon, at least in part, was responsible for the high sales on All Star Batman and Robin the Boy Wonder, Red Sonja, and Serenity (and others). So it's hard to know how much of the record sales on All Star Batman and Robin, for example, were due to increased numbers of consumers, and how much due to duplicate buying by collectors purchasing multiple copies.
Graphic novel piece sales were unspectacular, with the latest volume of Y the Last Man the top graphic novel title at around 8,500 copies. Fruits Basket Vol. 11 was the top graphic novel title from a non-Big Two company and the top manga title, with around 4,200 sold.
The top 25 comic titles in July, along with our estimates of the number sold to North American comic shops by Diamond Comic Distributors are:
261,046 All Star Batman & Robin the Boy Wonder #1
158,693 New Avengers #7
151,744 House of M #3
146,529 House of M #4
127,768 Astonishing X-Men #11
108,341 Superman / Batman #21
99,134 Ultimates 2 #7
93,598 The Omac Project #4
91,321 Ultimate Fantastic Four #21
88,475 Villains United #3
87,644 JLA #116
87,094 Ultimate X-Men #61
80,603 Red Sonja #1
79,026 The Rann / Thanagar War #3
78,404 Ultimate Spider-Man #79
77,154 X-Men #173
76,906 Ultimate Spider-Man #80
76,651 Wolverine #30
75,505 Day of Vengeance #4
73,130 Amazing Spider-Man #522
71,586 Spider-Man: House of M #2
71,259 Iron Man: House of M #1
71,036 Superman #219
70,827

Fantastic Four: House of M #1
We are estimating actual sales by Diamond U.S. (primarily to North American comic stores), using Diamond's published sales indexes and publisher sales data to estimate a sales number for Batman (the anchor title Diamond uses in its calculations), and using that number and the indexes to estimate Diamond's sales on the remaining titles. We can check the accuracy of our numbers by comparing the Batman number that we calculate using multiple data points; our numbers for Batman are within 1/10 of 1% of each other, ensuring a high degree of accuracy.