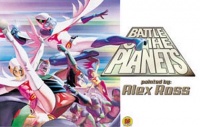 Back in the late 1970s, the Japanese animated series Kagaku Ninjatai Gatchaman debuted on U.S. television as Battle of The Planets. Also known in the U.S. as G-Force, Battle of the Planets was very advanced for its day, with wonderful character designs and uniforms by the young Yoshitaka Amano. This August, Rhino Home Video brought out a DVD compilation of the original Battle of the Planets cartoons (see 'There's Gold in Them Thar Cartoons'), while Urban Vision has recently released several of the Japanese 1994 OVA revivals of the Gatchaman franchise (see 'The Summer of Gatchaman'). Interest in the property continued to grow with Diamond Select picking up the license to create toys based on property (see 'Diamond Select Adds Battle of the Planets'). Now Top Cow has announced that Alex Ross will be supervising a new G-Force/Battle of the Planets comic series, which is set to debut in mid 2002.
Ross, who is known for his superb painting, will provide the covers as well as the character design for the new comic series, which he promises will be faithful to the classic G-Force look. Interviewed by Matt Brady of Newsarama, Ross appears to be very enthusiastic about the property -- something that can be deduced easily from Ross's brilliant Battle of the Planets lithograph recently published by Dynamic Forces. Ross told Brady, 'I can say that Battle of the Planets was such an inspiration in my childhood that most of my self-created superheroes were born of their inspiration. Even years later, I would find that those influences from G-Force were still having an impact on me and my work.'
When it appears next summer, the Top Cow G-Force (or Battle of the Planets -- the more generic, but alas, better known title for the series) comic will be yet another example of the growing cross-fertilization between Japanese and American pop culture.

Diamond Select's first toys based on the property should also be available by then and this property just might prove to be one of the surprises of 2002.

For the time being savvy retailers should consider stocking the videos from Rhino and Urban Vision as well as the stunning Dynamic Forces lithograph.