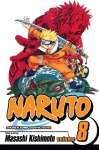 Viz's Naruto manga dominated the BookScan report for the week ending September 18th. Just eight days after the premier of the Naruto anime on the Cartoon Network all seven volumes of the Naruto manga were in the top 20 with four titles in the top 10. What's the evidence that exposure on the Cartoon Network created new fans for the series? The first volume of the Naruto series came in second selling more copies than the most recent Naruto release (Vol. 7).
Full Metal Alchemist, another manga series that benefits from exposure of the FMA anime series on the Cartoon Network, also continued its strong performance -- Vol. 1 is the best-selling graphic novel so far in 2005 and Vol. 2 remains in the top ten, where it will undoubtedly be joined by the newly-released Vol. 3 on the next BookScan list.
Naruto's dominance of the top 10 overshadowed the strong showing of Tokyopop's DN Angel Vol. 9, which occupied the top spot on the charts for the first time in the series' history. Tokyopop also has a series that is benefiting from TV exposure; Tokyo Mew Mew A La Mode roared from #69 to #12 benefiting from the 4Kids' Mew Mew Power anime series shown on Fox stations on Saturday morning.
Manga was more dominant than ever on this bookstore graphic novel sales report taking 48 out of the top 50 spots. The highest-ranking non-manga title on the list was Marvel's Ultimates 2 Vol. 1, which came in at number 33. The only other non-manga title in the top 50 was Frank Miller's Sin City Vol. 1 at number 43.