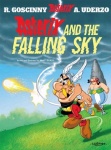 After 46 years and 33 graphic novels Asterix, the pint-sized Gallic warrior and his porcine sidekick Obelix have finally taken a determined political slant in Asterix and the Falling Sky, the new Asterix adventure, which is filled with satirical flourishes aimed at cultural and political domination from the U.S. (and Japan). Over eight million copies of the new Asterix volume were released in 13 languages and 27 countries -- a clear indication that this Gallic creation is indeed the world's most popular comic book.
After the writer of the classic Asterix adventures, Rene Goscinny, died in 1977, Albert Uderzo, who has illustrated the entire series, took over the writing chores. Uderzo explained what he was trying to do in Asterix and the Falling Sky in an interview with France-Soir: 'Let us say that I had fun caricaturing certain things which have come from America. Even I am a bit surprised, because Goscinny and I never got Asterix involved in politics. But here there is a slight political side to it. What Americans are going through today with Bush got me into it.'
In the new Asterix adventure creatures from the planet Tadsylwine (an anagram of Walt Disney) invade Brittany with an army of dim-witted soldiers that are dressed like superheroes and announce that are seeking the Gaul's magic potion at the behest of their sage, Hubs (an anagram of Bush). These 'Americans' aren't the only interlopers--another group of space invaders, the Nagmas (an anagram of manga -- the Japanese comics that are even more popular in France than they are in the U.S.), also want the potion. It quickly becomes clear that Asterix and the Falling Sky is really about 'cultural imperialism' and that Gallic virtues are under attack from both Hollywood and Tokyo.
Still with 310 million copies of Asterix graphic novels sold, it might be difficult to tell exactly which of the countries involved is the cultural behemoth -- at least in terms of comic books.