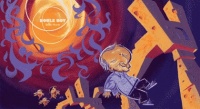 Eisner Award-nominated artist and animator Scott Morse has announced the launching of Red Window, a new self-publishing venture. Morse will have total control over the output of Red Window, which will include graphic novels, art books, clothing and film. Chris Pitzer of AdHouse Books will serve as designer and consultant, and AdHouse will distribute the Red Window titles.
Morse's projects for 2006 include a graphic novel, Noble Boy, about animation design pioneer Maurice Noble, the man behind the 'look' of such classic cartoons as Duck Dodgers and What's Opera Doc? Due out in the first quarter, Noble Boy will be a 32-page, full-color board book with rhyming text, and will retail for $12.95.
Also slated for next year are Tiger! Tiger! Tiger!, a major expansion (3 times as long) of Morse's Southpaw graphic novel (see 'Scott Morse's Southpaw'), the autobiographical hardcover Along These Fiery Paths, and a sketchbook collection entitled Character Study.