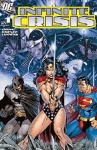 DC Comics' Infinite Crisis #1 dominated sales of periodical comics during October as the total retail value of sales of the book through Diamond Comic Distributors reached nearly a million dollars. In unit sales of comics so far in 2005, Infinite Crisis #1, with a total of 249,265, is second only to Frank Miller and Jim Lee's All Star Batman and Robin, The Boy Wonder #1, which sold 261,046 in July, although because of its higher cover price ($3.99 vs. $2.99 for ASB&R) Infinite Crisis #1 is the number one comic book of 2005 so far in total dollars. In fact it is the first book to come this close to totaling a million dollars in retail sales in a single month since the first issue of JLA/Avengers (helped by its hefty $5.95 cover price) topped the million-dollar mark in September of 2003. The success of Infinite Crisis #1, which had two covers, certainly won't do anything to dampen publisher's enthusiasm for variant covers.
Infinite Crisis #1 was largely responsible for the 6% overall gain in sales of periodical comics in October (vs. October 2004). Most of the other top comics treaded water during October--only four titles sold over 100,000 units and only six of the top 25 comics gained in circulation, while 17 titles declined. Most of the gains were modest, although Marvel Knights Spider-Man #19 posted a substantial 28% increase over issue #18 thanks to a major crossover event, The Other.
Just as Infinite Crisis #1's $3.99 cover price helped periodical comics to a substantial gain in sales versus October 2004, graphic novel sales through Diamond in October 2005 benefited from the release of a number of high dollar items including Watchmen Absolute Edition ($75), X-Men Complete Age of the Apocalypse Vol. 2 ($29.99), Green Lantern Rebirth Hardcover ($24.99), Harvey Pekar's Quitter ($19.99), and the V for Vendetta Hardcover ($24.99). Actual unit sales of graphic novels via Diamond in October were mediocre. The Vertigo First Offenses trade topped the list with sales of 6,844 units, followed by Dark Horse's Star Wars: Clone Wars Adventures Vol. 4 at 6,487 and Marvel's X-Men Complete Age of the Apocalypse Vol. 2 at 6,088. DC's Watchmen Absolute Edition, which sold 4,814 copies, was the top dollar graphic novel of the month with sales nearly doubling the total of the second place title.
Although DC continues to dominate direct market graphic novel sales, with five of the top ten titles, Marvel improved its performance in the graphic novel category in October. Harvey Pekar's Quitter hardcover for DC was the top-selling 'alternative' title, with sales of nearly 4,000 copies, which earned it the #12 position in unit sales (it came in #5 in dollars).
Dark Horse's Berserk Vol. 9 was the top manga title, coming in fourteenth, followed closely by Tokyopop's Battle Royale Vol. 14. Berserk and Battle Royale are action-packed, blood-soaked manga titles that consistently perform much better in the direct market than in bookstores. Tokyopop's Samurai Champloo Vol. 1, which came in 25th, was the only other manga title among the top 25 titles in Diamond's Graphic Novel list.
The top 25 comic titles in September with our estimates of the number sold to North American comic shops through Diamond Comic Distributors are:
249,265 Infinite Crisis #1
134,429 House of M #7 (of 8)
127,949 New Avengers #12
125,115 Justice #2
85,761 Friendly Neighborhood Spider-Man #1
84,271 Uncanny X-Men #465
83,907 Villains United #6 (of 6)
82,892 JLA #120
79,520 Amazing Spider-Man #525
78,869 JLA #121
75,664 Wolverine #34
75,118 Ultimate X-Men #64
74,670 Ultimate Spider-Man #84
74,635 X-Men #176
73,684 Wolverine #35
71,375 Rann Thanagar War #6 (of 6)
70,549 Ultimate Fantastic Four #24
69,975 Batman #646
69,688 Ghost Rider #2
68,925 Green Lantern Corps Recharge #2 (of 6)
67,638 Superman #222
66,581 Teen Titans #28
66,140 Marvel Knights Spider-Man #19
64,909 Ultimate Secret #4
63,873 Young Avengers #8
We are estimating actual sales by Diamond U.S. (primarily to North American comic stores), using Diamond's published sales indexes and publisher sales data to estimate a sales number for Batman (the anchor title Diamond uses in its calculations), and using that number and the indexes to estimate Diamond's sales on the remaining titles. We can check the accuracy of our numbers by comparing the Batman number that we calculate using multiple data points; our numbers for Batman are within 1/10 of 1% of each other, ensuring a high degree of accuracy.