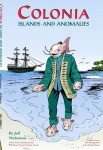 San Francisco-based publisher AiT/Planet Lar has signed an exclusive book distribution deal with the LPC group, which already represents Dark Horse, Image, Tokyopop, Oni, and Comics One. AiT/Planet Lar books will continue to be distributed to specialty shops by Diamond Comic Distributors, FM Distribution, Cold Cut, and the UK-based Red Route Distribution -- the deal with LPC only affects mainstream bookstore sales. Founded just two years ago by creator Larry Young, AiT/Planet Lar has already established a list of interesting alternative graphic novels. New projects that will be available soon include Warren Ellis' collection of photography and prose, Available Light; the first compilation of Jeff Nicholson's Colonia; Brian Wood's coffee-table art book Public Domain; and Larry Young's rumination on superheroes, Planet of the Capes.
The past twelve months have seen a major expansion in the sales of graphic novels to the regular book trade, and comic publishers have been scrambling to find the right partner to deal with the intricacies of the highly competitive, returnable environment of mainstream bookstores.

Image (see 'Image Signs With LPC') and Dark Horse (see 'Dark Horse Moves to LPC') have both made deals with LPC this year, while Marvel left LPC to sign with Diamond (see 'Diamond Awarded Marvel Bookstore Distribution').

Since AiT/Planet Lar is concentrating on the creation of original graphic novels (and not monthly comics), a distribution deal with LPC makes perfect sense.