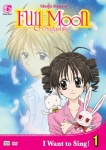 Viz Media, LLC, has confirmed the further expansion of its Shojo Beat imprint with the launch of Shojo Beat Home Video (see'Interview with Viz Media VP Liza Coppola, Part 1'), which will release anime DVDs targeted at female fans in North America. The first release under the new home video imprint will be Full Moon (Full Moon wo Sagashite in Japan) Vol. 1: I Want to Sing, which has a suggested retail price of $24.98 and a street date of June 27th.
A special preview disk containing the first episode of Full Moon will be included as a free premium in the June issue of Shojo Beat magazine, which goes on sale on May 16th. The first Full Moon DVD will contain four episodes of the 52-episode anime, and subsequent volumes will be released quarterly.
The Full Moon manga, written by Arina Tanemura, debuted in the U.S. in June of 2005 and the series has sold over 150,000 copies in North America to date.
Full Moon is the story of a 12-year-old girl, who longs to be an idol singer, but who is stricken with a tumor in her throat. Magically transformed into a 16-year old, the girl attempts to make the most of her brief shot at success, but her illness lingers in background reinforcing the manga's theme of the transitory nature of life and adding an undercurrent of heart-wrenching drama to what otherwise might be a typical idol-drama.