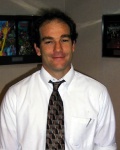 Interview conducted November 29, 2000 in Timonium, Maryland.
1.What did you do before you started working for Diamond? I was an English major in college. I graduated and then worked as a newspaper editor and writer. Then I got into the bookstore management business culminating in partial ownership of a bookstore/coffeehouse called 'The Artful Dodger's Feed & Read' on Maui. I did that for quite a while. Then I moved back to the mainland. That's when I started working for Diamond.
2.So how long have you been with Diamond? Thirteen years, since 1987. I actually started with Bud Plant, I think Diamond bought Bud Plant about 2 months after I started working for them.
3.Describe your career path at Diamond. I was in charge of the Denver Distribution Center. After a couple of years of doing that, Ken Krueger, who was the manager of our Los Angeles Distribution center, left the company, so I got sent out there for a fill-in stint that lasted about six months. During the time I was gone from the Denver DC, it got along fine without me, so I said to Diamond, ' You know you guys could use some marketing help.' I put together a proposal and ending up coming to Baltimore about 1990 to head up a new marketing department. I think it was about 94 or 95 when I was appointed Vice President of Marketing.
4.What are your current responsibilities here? Marketing, which encompasses Marketing Communications, the publications that we do, plus advertising and PR, our trade shows, market research; sales, which includes three outside sales reps, plus about a dozen inside sales reps; and also customer service--we have a call center with about 50 customer service reps.
5.How large do you think the U.S. market is for anime/manga and Japanese import books & toys? I really have no clue, but I would guess that just anime portion of it is at least US$100 million including Suncoast and the other mall merchants who are carrying anime. As far as the other pieces of the business you mentioned, I wouldn't know how to come up with a number.
6.What do you think the sales trend is for these Japanese-based products? Well, I know for us it is up significantly. First the whole Pokemon phenomenon ignited an interest in things Japanese, which has certainly been increasing with more and more Japanese created programming on U.S. television. And right now the conversion to DVD is fueling additional sales for anime. Also, since Diamond is now able to legitimately import the toys, it has given a big boost to that product line. So I would say that over all, it is looking very strong. Right now it is probably one of the stronger product lines we have.
7.How large is the domestic market for role-playing and collectible card games? I actually found something from GAMA that pegs what they call the 'Adventure Games Industry' 1999 sales at US$1.6 billion at retail. I am not exactly sure of all that they are including in that number, but I bet if you were looking at just the specialty market, the hardcore game stores, the number would probably less than a fourth of that, probably about 20%.
8.So what do think are the sales trends in games in the post-Pokemon era? The slowdown of Pokemon has definitely had a major impact on the gaming sales, but this is an industry where all segments, the consumers, the retailers and the manufacturers are enthusiastic about the product and they have lots of new material poised to fill the void.
9.What about the current market for toys, models, and statues? The Toy Manufacturers Association has a web site. They put action figures at US$1.12 billion in 1999, which was up 24% over 1998.
10.What are toy sales trends? My guess would be that sales in the year 2000 probably are not going to equal what they were in 1999. With no Star Wars, and in general just fewer hot products and licenses from the major manufacturers, so this year's sales level won't equal what it was in '99. But I think that in the specialty market, this category is still showing a lot of positive signs of growth. Our retailers can find and sell those products that aren't necessarily going to be at all the mass market places. There are so many more products created now just for the collector market, for the hardcore collectors.
11.What about the comic market? I would guess that it is somewhere in the neighborhood of US$300 million this year in the specialty market; I really can't say how much additional is through the newsstand or the bookstores, maybe US$400 million total. That might be a little generous in both cases.
12.What do you see as the major sales trends in comics? Well comics and graphic novels together have been kind of flat?down a bit over the past few years. I actually compared this year's numbers (2000 through October) with last year's, and comics were down by about a point and a half, which was more than balanced out by a 9% gain in graphic novels. When you put the numbers together and compare with last year, this year's total comic number is a few dollars higher.
So you are seeing a shifting sales pattern from regular comics to graphic novel comic collections? Yes. I hear from DC and Dark Horse that they are selling more graphic novels into the traditional bookstores as well. We recently started selling to Borders and Waldens, selling them graphic novels and trades from the independent publishers. They must have done well with trades from the big four, because they now want to expand what they're carrying.
13.What trends have you seen in the sales of movie and TV licensed merchandise? With movies and TV shows we certainly try and identify hot properties as early on as possible. If it's going to be everywhere in the mass market, specialty retailers are going to have a tough time with it, but if we're on the cutting edge with stuff then it works well for us and for the retailers. It's tricky and it's hard to forecast what's going to be a hot license and what's not. We try. We've had some successes with things like Farscape, and licenses coming out of Japan.
14.Let's talk about Diamond's publications. How many do you publish every month? We have Previews, the monthly catalog; an order form that goes with it; we do Primo which attempts to distill the most exciting items that have crossover appeal out of Previews; Diamond Dialogue, a monthly trade news publication; and Dateline, our weekly retailer newsletter.
15.How many pages is Previews running these days? Around 400 pages. There are a lot of products in there, and it's probably going to get bigger because we are going to start carrying the same game skus that are in Game Trade (published by Diamond's sister company Alliance) and that represents a big increase over what Diamond has traditionally carried.
So this will represent a major expansion of game offerings in Previews? Definitely.
16.What do you think is going to be the next big trend in the pop culture products industry over the next 12 months? Well that's tough to predict. It seems like that on the comics and graphic novel side of things, there's a bit of a tussle between the notion that this is a reader's marker or that this is a collector's market. Some forces are trying to advance collectibility and other forces are trying to advance the notion that people just want to read comics and enjoy them in a convenient format. Our comic purchasing team has noted the increasing importance of the writer as a component in what makes a hot book. The art used to be the major thing, sometimes almost the only thing, but no longer. Of course, a lot depends on the way things shake out with Marvel. We'll see what happens there. I think if they follow through on their hope to expand their backlist, their graphic novels and trades?it will be a good thing for the retailers.
I think we will continue to see increasing diversification by retailers to bring in related products that appeal to the store's clientele. I think that there are few 'pure' comic stores left anymore. Fewer 'pure' game stores?a lot of hybrid, pop culture collectible kind of stores have popped up, it's a trend we think will continue.
We also see the Japanese-based products anime, manga, toys as another area that will experience steady growth.
17.Tell me about the Diamond Sales Force and how they help retailers. We have three outside reps who try to visit our customers as often as possible to suggest products, help them restock their backlist, let them know about any breaking news that they might not have heard. With the inside sales force we do a lot of analyzing of advance orders, and if we see that an account ordered 'x' but didn't order the related product 'y,' we call them and bring it to their attention. It's not a hard sell, it's more like, 'This item is available and you ordered a related item, are you interested?' We do a lot of those kind of calls with our inside guys.
18.Are you planning to do 'Spring Flings' or other kind of retailer sales conferences this year? Yes, but we'd like to hold off discussing them pending talks with our primary suppliers.
19.Describe the Diamond website. The website (link here for Diamond website) is basically broken down into four areas. We have what we call the 'consumer area' for the general public where we try to distill the most exciting items from Previews and encourage fans to order them at their local comic shops -- we are heavily pushing the Comic Shop Locator Service there -- we have added an on-line version of the Locator Service where the fan can enter his local zip code and get profiles of the stores nearest him -- so the consumer side is trying to get people into the comic shops.
We also have an area of the website for suppliers which is still in its infancy, but we hope that before too long suppliers will be able go there and provide solicitation information in a computer ready format, check on any open purchase orders they may have, and even check stock levels on Star System items, but that is all in the future.
We also have a new section of the website that is directed at librarians and educators -- basically graphic novels and trade paperbacks described from an educational perspective. It's called the 'Bookshelf' and it segments things into 'Young Adult Humor,' 'Children's Action Adventure' categories and classifications that librarians are used to working with. We really think that there is a lot of potential to get comics into schools and libraries, and we are trying to lay the foundation for this on our website.
The fourth component of the website is the 'Retailer Site,' where retailers can place initial orders on line, they can get advance copies of their invoices, they can search to find out what we have in stock -- we have over 10,000 skus in stock, and retailers can download the list and break it up into a number of manageable categories, or search by title, etc. We are working on allowing retailers to be able to place reorders on line and receive confirmation, which is something that we hope to roll out early next year. That will be a big step forward.
20.What do you think are the major concerns of retailers right now? In planning for the retailer events that we are doing we did one of our monthly 'info please' columns where we asked for the top 15-20 topics that retailers would like to have discussed at the seminars. The overwhelming choice for top topic was how to bring new customers into the store, so I would say that is probably one of the top things on retailers' minds, how to bring in new customers, and how to get some of the customers, who may have lapsed, to return. I think this is a good area for publishers, and distributors to concentrate on. As far as service, I think that right now people are pretty satisfied with our [Diamond's] service. Quality control can always be improved, packing could always be better, but it really has come down to those nuts and bolts kind of issues -- and right now at least there are no big issues that people are fuming about.