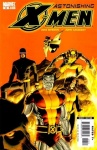 The first issue in the new Joss Whedon/John Cassaday Astonishing X-Men story arc topped off February comic store sales with over 140,000 copies, easily topping the last issue of the previous arc. It led a relatively strong group for what is traditionally the weakest month of the year; 13 of the top 25 titles were up over the previous issues.
DC had a relatively good month at the top of the chart, with 10 of the top 25 titles, and half of the top 10.
The historically inhospitable character of February for launches apparently scared off the publishers; not a single first issue (excepting a one-shot) appeared in the top 25.
The removal of the Marvel Knights brand and title change (see 'Marvel Retools Marvel Knights') apparently did Sensational Spider-Man no good (although the re-titling was not known when retailers first ordered the book), as sales were down substantially from the last Marvel Knights issue.
Marvel's House of M collection topped the graphic novel chart with over 8,000 sold. DC's repackaged V for Vendetta came in at #3 with sales of over 5,300, a number that will probably be surpassed in March in the run-up to and strong release of the film.
Viz's Rurouni Kenshin was the best-selling manga trade paperback in comic stores in February, coming in at #17 with around 3,200 sold.
The top 25 titles in February, with our estimates of the number sold to North American comic stores by Diamond Comic Distributors, are:
140,655 Astonishing X-Men #13
121,492 New Avengers #16
110,488 Justice #4
104,734 Supergirl #4
97,358 Ultimate Wolverine vs. Hulk #23
90,414 Amazing Spider-Man #529
89,252 Green Lantern #8
86,554 Green Lantern #9
85,252 Supergirl #5
79,039 Uncanny X-Men #469
78,653 X-Men #182
76,454 X-Men #183
75,869 Ultimate Extinction #2
74,666 X-Men: Deadly Genesis #4
74,341 JLA #125
72,700 Ultimate X-Men #67
72,248 Wolverine #39
71,470 Ultimate Spider-Man #90
69,131 Teen Titans #32
67,922 Ultimate Fantastic Four #27
66,447 Batman #650
65,344 Rann / Thanagar War Infinite Crisis Special
63,982 Superman #226
59,051 Sensational Spider-Man #23
58,540 X-Men: The 198 #2
We are estimating actual sales by Diamond U.S. (primarily to North American comic stores), using Diamond's published sales indexes and publisher sales data to estimate a sales number for Batman (the anchor title Diamond uses in its calculations), and using that number and the indexes to estimate Diamond's sales on the remaining titles. We can check the accuracy of our numbers by comparing the Batman number that we calculate using multiple data points; our numbers for Batman are within 1/10 of 1% of each other, ensuring a high degree of accuracy.