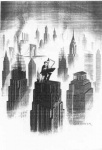 DC is joining September 11, the previously announced comic benefit project organized by Dark Horse and Chaos to raise money for the victims of the September 11 attack on the US. This will bring the project to two trade paperback volumes, each over 200 pages, which will be shipped in in January. Most stories will be in color, except for those intended for b/w reproduction.
The content in the two volumes will be very different. Volume 1, organized by a team of Dark Horse editors and editor Marie Croall from Chaos. '...is intended to reflect artists' personal responses to the terrorist events, so it won't feature established comic-book characters as a story-telling vehicle,' according to Shawna Ervin-Gore from Dark Horse.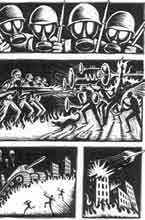 Eric Drooker is the cover artist for Volume 1. Previously announced creators for Volume I include Will Eisner, Frank Miller, Paul Chadwick, Mike Mignola, Jim Valentino, Jon Bogdonave, Joe Casey, Joe Chiodo, Dean Motter, Joe Quesada, and many others.
DC will oversee production of Volume 2, which will include favorite comic-book characters in the stories, but will also include some non-character driven stories. Alex Ross is the cover artist for Volume 2.
Other companies involved with the project include Wizard, Diamond, and Quebecor. Although the book is planned to ship in January, Diamond Comic Distributors does not have it listed in its current Previews, which lists most products shipping in January. As a result, September 11 will first be listed in a Previews Update, then re-listed in the January cover date Previews (for product shipping in March). Although there has been some discussion of a slipcase for the two volumes, this will not be part of the initial solicitation.
There are two other major comic benefit projects.

Marvel's Heroes, a book of illustrations with many featuring Marvel characters, has already sold out its first printing and gone back to press (see 'Heroes Second Printing To Be 150,000') behind an outstanding Marvel public relations effort (see 'Marvel PR Blitz Continues').

9-11 Emergency Relief, the trade paperback project organized by Alternative Comics' Jeff Mason, will ship in January (see '9-11 Emergency Relief...').