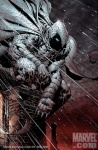 During Marvel's Moon Knight conference call, novelist-turned-comic-scribe Charlie Huston indicated that he would continue writing the title through issue #12. Originally Huston's Moon Knight revival was seen as a six-issue mini-series (see 'Novelist to Revive Moon Knight'), but with the success of the first issue (which featured art by David Finch), Marvel has decided to make Moon Knight an on-going series.
Huston did admit that he and Finch had discussed potential ideas for stories beyond issue #12, but Huston told members of the comics press, 'I am a novelist, that's how I make my living,...' and he made it clear that any further writing on Moon Knight beyond issue #12 would depend on his schedule.
In addition to his Moon Knight chores Huston is also scripting The Ultimates Annual, which will be published in August.
Huston, who expressed exasperation with the current system of comic book solicitation, which leaks vital information (like his revival of the Task Master) concerning forthcoming books, did mention, somewhat obliquely, that during his second arc (issues #6-#12) the influence of the events in Marvel's Civil War would be felt in the Moon Knight comic. Huston wouldn't characterize this as a 'crossover' event and would not specify the characters involved, but he did indicate that Civil War was too big an event to ignore and he did go so far as to say: 'There will be characters hip deep in Civil War passing through Moon Knight.'