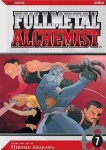 Viz Media's Full Metal Alchemist Vol. 7 topped the BookScan chart of graphic novel sales in bookstores for the week ending May 7. FMA Vol. 7 reached #100 on this week's USA Today list, which includes all genres and formats of books. Del Rey's Tsubasa Vol. 9, which dropped Tokyopop's Fruits Basket Vol. 13 from its month-long perch atop the BookScan list last week, slipped to the fourth position, while Fruits Basket Vol.13 wound up in the seventh spot. Viz Media's Death Note Vol. 5 took the second rank followed by Rurouni Kenshin Vol. 26 ended up at number 3 in its third week of release.
Viz's Naruto Vol. 9, which remains the top-selling graphic novel of 2006 (in units), came in fifth, while Tokyopop's Kingdom Hearts Vol. 3 finished sixth. Alan Moore's V for Vendetta was #9, and remained the second most popular graphic novel of the year (and number one in dollar sales), while Viz's Black Cat Vol. 2 (#8) and Naruto Vol. 1 (#10) rounded out the top ten. All nine volumes of Naruto finished among the top 22 titles. Viz's D Gray Man Vol. 1 is off to a great start, climbing to #14 in its third week of release.
Manga continued to dominate graphic novel sales in bookstores grabbing 47 out of the top 50 spots -- the only non-manga titles in the top 50 were Bongo/HarperCollins' Bart Simpson's Guide to Life (at #46) and Alan Moore's perennial Watchmen (#49) and V for Vendetta (#9).