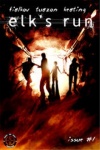 Villard, a division of the Random House Publishing Group, has announced that it will publish a graphic novel edition of Elk's Run by Joshua Hale Fialkov and Noel Tuazon. The graphic novel will collect the complete eight issue comic book series, which was recently nominated for no fewer than seven Harvey awards (see 'Harvey Nominations Announced'), and will provide readers with their first opportunity to read the story all the way through to its explosive conclusion.
Originally self-published via Fialkov's Hoarse and Buggy Productions, Elk's Run moved to Speakeasy Comics only to see the fledgling publisher shut down earlier this year (see 'R.I.P. Speakeasy'). In an era when graphic novels were less of a force in the publishing world, Elk's Run, in spite of its critical acclaim and Harvey nominations, might have had to go back to the self-publishing route; but with the interest of mainstream publishers in graphic novel projects at an all time high, the creators of Elk's Run instead found themselves ensconced with one of the most prestigious publishers in the country.
A coming-of-age saga set in the isolated town of Elk's Ridge, West Virginia, Elk's Run focuses on the town's teenagers who must decide between a life of isolation (and fear), or the unknown dangers of the outside world.